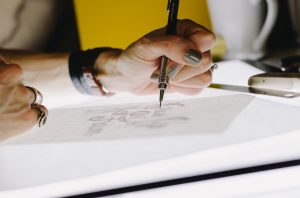 March is Women's History Month and a great reason to "Just Be Creative!"
Merriam-Webster defines creative as "1: marked by the ability or power to create:  given to creating 2:  having the quality of something created rather than imitated."  Guess what, because God who is our creator is creative, you and I are all creative.
"So God created mankind in his own image, in the image of God he created them; male and female he created them."
Genesis 1:27
In this MONTH'S NEWSLETTER learn about some creative women in our history and what they invented, as well as a 31-Day reading plan focusing on God, Our Creator.
Creativity comes in many forms:  artistic, music, writing, parenting, meal planning, decorating your home.  How each of us express our creativity is different.  The challenge is to not just read about being creative, but to go and be creative.  Dan Stevens writes, "The comfort zone is the greatest enemy to creativity."  Get out of your comfort zone, and try something new this month.  In the words of the Dr. Seuss, "Think left and think right and think low and think high.  Oh the thinks you can think up if only you try!"
Have fun and "Just Be Creative" this month.
Need previous issues of the INSPIRE Newsletter?  They can be found at the following links:  February 2021, January 2021 December 2020, November 2020, October 2020, September 2020, August 2020, July 2020, June 2020, May 2020, April 2020, March 2020, February 2020, January 2020, December 2019, November 2019, October 2019, October 2018-September 2019