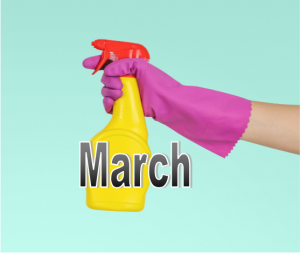 Welcome Home to the month of March as we focus on spring cleaning our home and our soul.
Spring cleaning is the practice of thoroughly cleaning a house in the springtime. The practice of spring cleaning is especially prevalent in climates with a cold winter.  In this MONTH'S NEWSLETTER are some tips to making spring cleaning easier.
As always there are INSPIRATIONAL ideas from women's groups from around the Western Territory and practical ways that WM groups can be of service to the corps and the community, including easy Easter favors that can be made to share the real message of Easter.
This month's bonus material is a devotional:  Spring Cleaning for the Soul.  It uses the word "CLEAN" and gives us five steps we can take to do a spritual spring cleaning. Also included is a bookmark that can be printed and distributed to WM groups as a reminder of the Spring Cleaning for the Soul Tips.
If we confess our sins, he is faithful and just and will forgive us our sins and purify us from all unrighteousness.  1 John 1:9
Need previous issues of the INSPIRE Newsletter?  They can be found at the following links: Feburary 2020, January 2020, December 2019, November 2019, October 2019, October 2018-September 2019