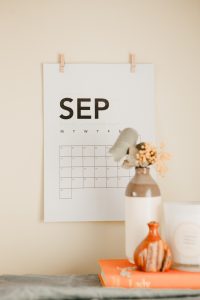 Welcome Home to the month of September. This is the time of year  when we think about kids going back to school.  Included in this MONTH'S NEWSLETTER  is a great prayer with verses that you can be praying for your kids, your grand kids, or even kids at the corps as they begin another school year.  This year is different for all students, so they and all the teachers need lots of prayer.
To go along with the back to school theme are two easy craft ideas to make your desk at home a little more organized.
The BONUS MATERIAL for this month is a creative prayer experience, where you can make your house a house of prayer by linking various rooms to different types of prayer.
As we have spent the past year focusing on our physical homes, we can't not think about our eternal homes.  For Christians, there is more than just this life.  This month's devotional takes a look at the beautiful promise that Jesus gives to His followers:
Do not let your hearts be troubled.  You believe in God, believe also in me.  My Father's house has many rooms, if that were not so, would I have told you that I am going to prepare a place for you?  John 14:1-2
Need previous issues of the INSPIRE Newsletter?  They can be found at the following links: August 2020, July 2020, June 2020, May 2020, April 2020, March 2020, February 2020, January 2020, December 2019, November 2019, October 2019, October 2018-September 2019