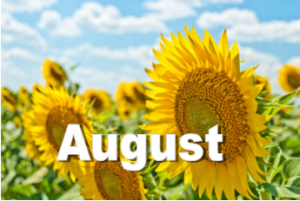 Welcome Home to the month of August.   This month rather than focusing on just one room of our homes, we are focusing on the clutter that fills our homes. If honest, most of us would say that we have too much stuff in our drawers, closets, homes and garages.  Joshua Becker, the author of the book Becoming Minimalist, says this about getting rid of clutter:
"The first step in crafting the life you want is to get rid of everything you don't."
"Owning less is  better than organizing more."
"If you're not using the stuff in your home, get rid of it.  You're not going to start using it more by shoving it in a closet somewhere."
Included in this MONTH'S NEWSLETTER are tips for decluttering your home, as well as 20 ways to get started.
Joshua Becker also wrote, "Today is the day you rid yourself of anything that distracts from your best life."  That goes for physical stuff as well as stuff in our spiritual lives.  God's Word clearly tells us that there are things that we should get rid of, so they don't clutter your heart and mind.
Pour out your worries and stress upon him and leave them there, for he tenderly cares for you.
1 Peter 5:7 The Passion Translation
This month's devotional is all about throwing out our worries and anxieties. The BONUS MATERIAL for this month is a 5-day Bible study on the book of Philippians, and four things that Paul tells us to let go of in our Christian lives.
Need previous issues of the INSPIRE Newsletter?  They can be found at the following links: July 2020, June 2020, May 2020, April 2020, March 2020, February 2020, January 2020, December 2019, November 2019, October 2019, October 2018-September 2019