By Major Beth Desplancke
On July 1, 2020, Colonel Donna Igleheart joined the Western Territory's family as the Territorial Secretary for Women's Ministries.  Her and her husband, Colonel Kelly (serving as the West's Chief Secretary), have just come from the Southern Africa Territory where they served for 5 years.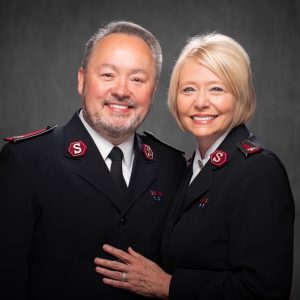 The Iglehearts hail from the USA Southern Territory, where they served for 23 years in 2 corps appointments and various divisional and territorial headquarters appointments. They are high school sweethearts and have been married for 39 years and are blessed to have three beautiful daughters (Katie, Kelsey, and Kendall), 3 amazing son-in-loves, and 6 sensational grandkids who lovingly call her Nana. Nana is a name she takes seriously. In her office she proudly displays a sign that says, "Nana is my name, and spoiling is my game."
Family is a priority to Donna. In a recent interview, she shared that her favorite holiday was Christmas because it is a time to gather. She would like to say Thanksgiving, but as officers (two of her daughters are also officers) gathering isn't possible. To Donna, home is family. Although they couldn't see their family often while they served overseas, the one week a year that they did get to see them was filled with love and intentionality.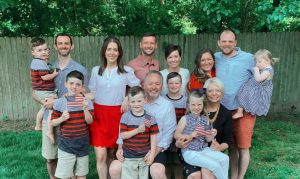 The entire Igleheart Family
Before leaving for South Africa Donna was part of a panel discussion at a youth councils. The question asked of her was, knowing she was part of such a tight-knit family, how could she leave them. She knew the Lord would have to give her the words to say. Her response was, "the calling outweighs the fear of the unknown."
More important than her family, is her faith in Jesus Christ. Her love for Jesus is expressed in all she does and says. She came to know Christ as a young girl, and at 14 she knew God was calling her to officership. Although she never envisioned leaving her home territory, she goes willingly where Jesus needs her and where He leads. She shared with me she has always felt over-appointed in every appointment. She said, "When you think you've got it, you are in trouble. It is only by the grace of God." For her, it is all about trusting God. When I asked her what her favorite verse is, she shared their family verse: Trust in the Lord with all your heart and lean not on your own understanding. In all your ways acknowledge Him and He will direct your paths (Proverbs 3:5-6). She then also said Psalm 46:10 was another favorite verse: Be still and know that I am God.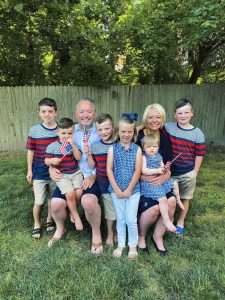 Iglehearts with all their grandkids
When asked if her family had a motto, she quickly said, "No regrets. Take advantage of whatever opportunity the Lord puts in front of you. Give all you have at the moment and seize every opportunity." She lives her life by this motto because of her confident trust in Jesus, which shows through in everything she does.
Friends are also important to her. Talking with her, I discovered that everyone becomes her friend quickly. She is warm, approachable and a great encourager. She takes the time to notice people, to appreciate all that they do. and makes the effort to share the good she sees in them.
When asked "If you came with a warning label, what would it say?" she quickly said, "I am going to take a photo with you." She did emphasize that she doesn't do selfies well so she would also grab someone to take the photo as well. To her, capturing moments are important, so when you have a chance to meet her in person, be ready!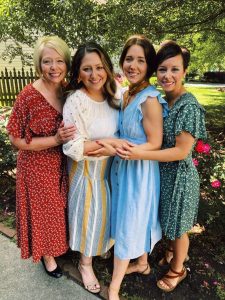 Colonel Donna with Kendall, Kelsey and Katie