Strawberry Roses
By Major Laura Sullivan
Garden Street Campus Coordinator – Del Oro Division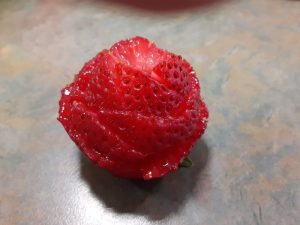 We are going to change Strawberries into flowers. It's super simple!
First pick out a medium to large strawberry that is firm, so it will hold it's shape.
Place the strawberry leaf side down. Hold the tip of the strawberry down with your index finger to keep it in place.
Make a cut near the bottom of the strawberry, but do not cut all the way thru. When you make the cut angle your knife away from the strawberry so the petal angles outward.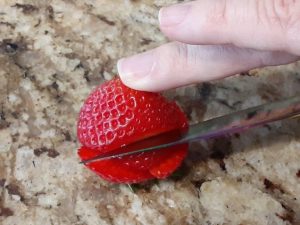 Repeat 5 times around the base.
Continue doing so, cutting petals in between the bottom petals. Again repeat 5 times.
Repeat this till you reach the top.
Take out a small piece at the top.
Viola' a strawberry flower!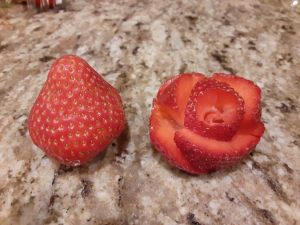 Note: Also on our website is CHANGING THE WORLD STARTS WITH ME Bible Study and CHANGING THE WORLD devotional that coordinates with this craft.