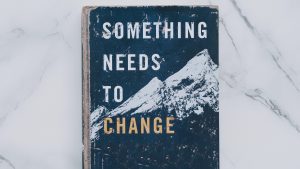 Changing The World
By Major Laura Sullivan
Garden Street Campus Coordinator – Del Oro Division
There is no need for you to change the whole world; first change yourself and you have started changing the whole world.  If even a single human being changes, that change will radiate to thousands and thousands of others.  You will be a triggering point for a revolution which can give birth to a totally new kind of human being.  Osho
What a word! CHANGE. It can mean a lot of different things. To Salvation Army officers it can mean new appointments, new homes, and new schools for the children.
For me? It means that and a few other things. I have been a blonde, and I am now a redhead. I even had someone not recognize me, because the last time they saw me I was blonde!
I've changed my eye color, my last name, my glasses, my size. Just to name a few.
How many of us felt like they were going to change the world? Win the World for Jesus! Leave our mark in this world?
We can get discouraged if we try and change everything at once. I'm afraid to tell you, but we can't change the whole world. We can change a life, which in turn will affect another and so on.
First, we need to look inward to ourselves. We need to be changed. In II Corinthians 5:17 it says: "Therefore, if anyone is in Christ, he is a new creation; the old is gone, the new has come!"  If you notice, there is an exclamation point at the end of this verse.
How exciting to become a new creation!? You can change your hair color as much as you want, but the real change is from Jesus. It comes from within first.
Once you allow an inner change to happen, you can win the world for Jesus, one person at a time.
In the shelter that I provide leadership for, I had one lady who asked for a Bible study, so we met together. She then told another lady, who told someone else and so forth. On Tuesday 6 women prayed the "sinners prayer" and came to know Jesus personally!
Look at the quote above. It such a powerful message. Allow God to begin to make that change happen in your heart. Now you have started changing the world.
Let God make a change in you and see how it affects those around you and your whole world!
Note:  Also on our website is CHANGING THE WORLD STARTS WITH ME Bible Study and a STRAWBERRY ROSE craft that coordinates with this devotional.