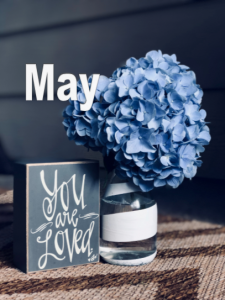 Welcome Home to the month of May.   For most of us the theme "Welcome Home" is taking on an all new meaning.  Safe at Home and self quarantine has become our daily existence.  For many of us, we are tired of our home and would rather be anyone else. This month's newsletter is written amid the COVID-19 pandemic and it has taken a different look.  We aren't focusing on a specific room, but the entire issue focuses on how to keep entertained, connected and to grow spiritually during this unusual and uncertain time where most of us are staying at home.
For the Bible study this month we are going to read four books of the New Testament, known as the Prison Epistles, written by Paul while he was under house arrest:  Ephesians, Philippians, Colossians and Philemon.  Paul gives these very appropriate words for this season from Philippians 4:6-7:
Do not be anxious about anything, but in every situation, by prayer and petition, with thanksgiving, present your requests to God.  And the peace of God, which transcends all understanding will guard your hearts and your minds in Christ Jesus.