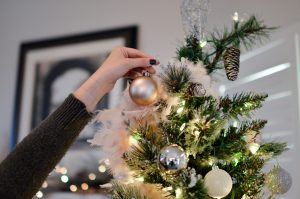 Merry Christmas!  December is a busy and hectic month, but it is the time when we celebrate the birth of our Savior, Jesus Christ.  In all the seasonal activities we can overlook the real reason for the season.  This MONTH'S NEWSLETTER will help us to "Just Be Festive," with some easy craft, snack and gift ideas that keep the focus on the birth of Christ.
For to us a child is born, to us a son is given, and the government will be on his shoulders.  and he will be called Wonderful Counselor, Mighty God, Everlasting Father, Prince of Peace.  Isaiah 9:6 (NIV)
 There is a daily Bible reading plan that will help tell the entire Christmas story – 31 days that points to the promise of a Savior from our sins.   This month's devotional is about savoring the SWEET gift of Jesus by focusing on five of His names. As we celebrate this Christmas may we never forget that sweetest and greatest gift ever given.
The Greatest Gift
By Ron Tranmer
When Christmas shopping is finally done,
Wrapped gifts lie 'neath a tree
That sparkles bright with tinsel and light
For everyone to see.
Each gift has been selected
With thoughtfulness and care.
Bringing joy with every toy
And other gifts we bear.
But let us keep within our heart
The much greater gift than these.
One from above, with God's great love
Should bring us to our knees.
A gift of birth to all on Earth.
A gift that's far from small.
To everyone, He gave His Son…
the greatest gift of all.
Need  more inspiration on how to "Just Be Festive" and keeping Christ the center of your Christmas celebrations?  Check out last year's devotional, LINGER AT THE MANGER, or THE 12-DAYS OF THE NATIVITY Bible study.
Need previous issues of the INSPIRE Newsletter?  They can be found at the following links: November 2020, October 2020, September 2020, August 2020, July 2020, June 2020, May 2020, April 2020, March 2020, February 2020, January 2020, December 2019, November 2019, October 2019, October 2018-September 2019