Linger at the Manger: The 12 Days of the Nativity
By Major Beth Desplancke, THQ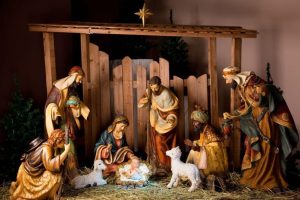 One of my favorite things about Christmas are the Nativity Displays. I have a collection of them, and if they weren't such a challenge to dust, I might be tempted to display them all year long. Nativity scenes remind us of the real reason for the season: the celebration of Christ's birth. But in the busyness of all the fun activities during the Christmas season, it is easy to push the story of Christ's birth to the backburner.
This 12-day Bible study is a way to slow down during the hectic pace of Christmas merriment, to focus on the story of Christ's birth, taking the time to linger at the manger. Each day will focus on a piece that is found in a typical nativity scene. No partridges in a pear tree with this 12 Days of Christmas, but a journey through the Biblical account of Christ's birth.
Besides a Scripture reading, and a devotional thought, each day includes a Christmas song to help focus your thoughts on the real meaning of Christmas. It goes deeper too, giving questions to ponder and a place for you to write your own prayer of response.
This study can be enjoyed in one of two ways: Beginning December 13, read one a day up until Christmas. The other option is to begin on the 1st Sunday in December (which is the first Sunday of Advent in 2019) and do three readings each week for the four weeks in Advent. This study could be done as a WM group, in your personal quiet time, or used with your family during the Christmas season.
For added fun, you could add a piece to the nativity with each reading and complete the entire nativity just in time for Christmas.
Day 1:  Mary – An Act of Surrender – Luke 1:26-38
Day 2:  Mary – A Song of Worship – Luke 1:46-55
Day 3:  Joseph – A Matter of Obedience – Matthew 1:18-25
Day 4: Stable – An Ordinary Place – Luke 2:1-7
Day 5: Angel – Filled with Praise – Luke 2:8-14
Day 6: Shepherd – Share the News – Luke 2:8-20
Day 7: Lamb – The Perfect Sacrifice – John 1:29-36
Day 8: Donkey & Ox – An Unexpected King – Matthew 11:28-30, 21:1-11
Day 9: Wise Man #1 – A Fixed Focus – Matthew 2:1-6
Day 10: Wise Man #2 – A Desire to Worship – Matthew 2:7-11
Day 11: Wise Man #3 – Hope for Everyone – Isaiah 11:1-10
Day 12: Baby Jesus in the Manger – He is the Greatest Gift – John 3:16-18