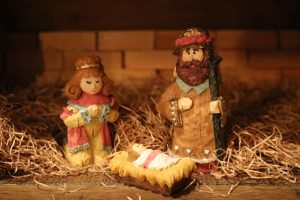 Immanuel:  God With Us
By Captain Amber West
Grand Junction, CO Corps – Intermountain Division
Read Matthew 1:18-25
As I read through this passage, I took a special note of the emotions in the scripture; shame, fear and disgrace. Not exactly what you would expect when reading a story about the birth of our Savior, but I'm sure we can all remember a time in our lives when we've experienced all these emotions. What a contrast we see here; human emotion vs. God's redemptive plan. As I look back at my own life, I can see this same overarching contrast.
I think my life is somewhat like Mary's. I grew up in a Christian household. I always tried to do the right thing. When I didn't do the right thing, I repented and asked God for forgiveness. Were things perfect? Far from it! But I was very content with my life. When I was 20 years old, I found myself newly married to a godly man, with our first child on the way. Up until this point, I never felt like my faith in God required major action. I never felt like God asked more of me. I went to church on Sundays. I was a youth group leader. I worked at many summer camps. My faith never required me to expand past my comfort box. And I imagine Mary was similar.
Things were easy and good until they weren't.
My husband was hurt by the church and he stopped attending. He started drinking. I started resenting him. We fought a lot. We struggled in almost every way; physically, spiritually, financially and emotionally. We lived like this for months. Looking back, I don't know if we ever even asked God for help. But despite our lack of faith during that time, God did not forsake us. We didn't have an angel appear, but we had fellow brothers and sisters in Christ who stood in the gap for us.
At the end of this spiritual drought I found myself in, for the first time in my life I felt like God was calling me to more. He was calling me to life-breathing, life-changing things. I had a decision to make; much like Mary and Joseph. Should I put my trust in God? Or should I run the other way?
We all have that same choice to make. We might be content with the way things are, but is God calling you to more? You might be feeling some of the same things Mary was feeling in this story. Are you feeling shame? Embarrassment? Fear? Do you feel like you aren't good enough for what God is asking of you? We tend to label ourselves with our mistakes and shortcomings. But that's not who God created us to be or what He calls us.
Isaiah 43:1b-2 (ESV) says, "Fear not, for I have redeemed you; I have called you by name, you are mine. When you pass through the waters, I will be with you; and through the rivers, they shall not overwhelm you; when you walk through fire you shall not be burned, and the flame shall not consume you."
He claims us as His own. Hallelujah!
No matter where we've been, what we're going through or where we go in the future, He will be with us! We find that promise in the name Immanuel.
Note: Also on our website is an IMMANUEL: GOD WITH US Bible study and IMMANUEL NATIVITY CRAFT  that goes well with this devotional.