Immanuel:  God With Us Nativity Craft
By Captain Christin Fankhauser
Everett WA, Corps – Northwest Division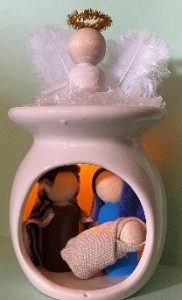 Supplies: (A majority of the supplies can be purchased at the Dollar Tree. I have noted items that can only be purchased at either Dollar Tree or Hobby Lobby)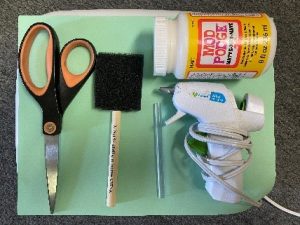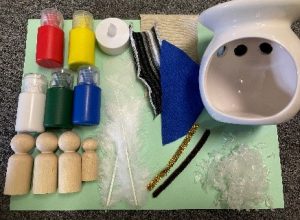 Scissors
Sponge paint brush
Hot glue gun
Hot glue sticks
Acrylic paint in a variety of colors
White feathers (2 per person)
Battery operated tealight (1 per person)
Gold metallic pipe cleaner (1/3 per person)
Brown pipe cleaner (2/3 per person)
Variety of small cuts of fabric (3 different colors/patterns)
Ceramic tealight oil/wax melt holder (1 per person) *Dollar Tree
Wooden Peg men size: Diameter 7/8" Height 2 5/16" (3 per person) *Hobby Lobby
Wooden Peg boy size: Diameter 5/8" Height 1 11/16" (1 per person) *Hobby Lobby
Faux snow (*optional)
White glue/Mod Podge (*optional)
Clear acrylic sealing spray (*optional)
Instructions:
1.  Begin by painting the 3 larger wooden pegs the clothing colors of your choice for the Angel, Joseph, and Mary. You can paint the head of the small wooden peg (baby Jesus) if you'd like. While pegs are drying (it will take a few coats of paint) you may paint/decorate the ceramic tealight oil/wax melt holder. *If you choose to paint your tealight holder, coat it with clear acrylic sealing spray once your design is dry before proceeding.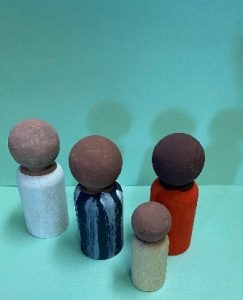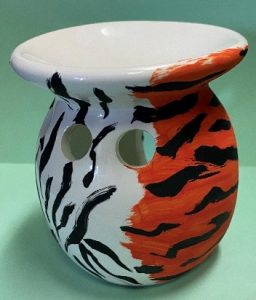 2. Next, shape and hot glue the headdresses for the Joseph and Mary pegs and wrap and hot glue the swaddling fabric for the baby Jesus.
3. Take 1/3 brown pipe cleaner and form into a headband to go around Joseph's headdress and hot glue it down. Take the other 1/3 brown pipe cleaner and form into a shepherd's crook for Joseph if desired (you will glue this after Joseph is permanently placed inside the ceramic tealight holder).
4. Take the 1/3 golden pipe cleaner and form into a halo for the angel. Make a circle and leave a little of the stem to be hot glued to the back of the angel's head so that the halo appears to be floating over the angel's head.
5. Cut the two feathers to the size and shape desired. Criss-cross the feather stems and hot glue to the back of the angel to achieve the desired appearance.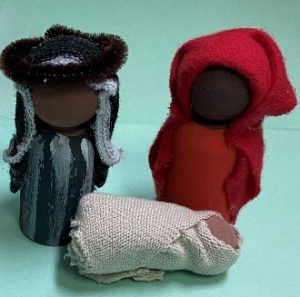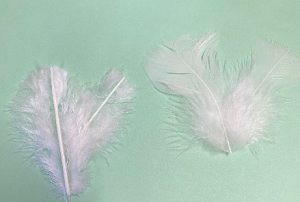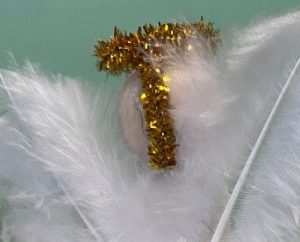 6. Place Joseph and Mary inside the ceramic tealight holder, and then fit baby Jesus at desired angle. Once you have placed Joseph and Mary in desired position, hot glue them down. Then put a dot or two of hot glue on the back of the baby Jesus and glue him to Mary as if she is holding him.
7. If you choose to make a shepherd's crook for Joseph, you may position and hot glue it now.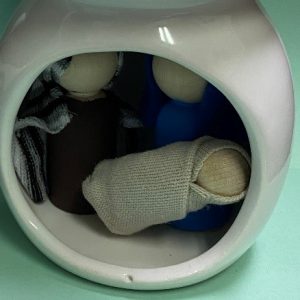 8. Place the Angel on top and secure in position with hot glue.
9. *Optional: use white glue or mod podge to fill in the space around the angel and glue down some faux snow for aesthetic.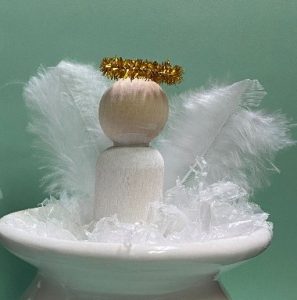 10. Choose one of the center 2 small holes in the back of the tea light holder to hot glue the tealight in place. The flame of the tealight should fit inside the hole and shine in the background of your nativity scene.
Finished Project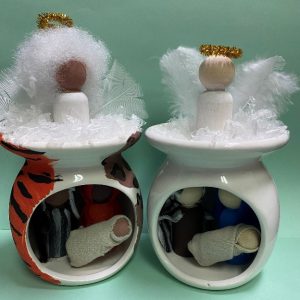 Download the PRINTABLE VERSION of this craft.
Note: Also on our website is an IMMANUEL: GOD WITH US Bible study and IMMANUEL:  GOD WITH US devotional that goes well with this craft.