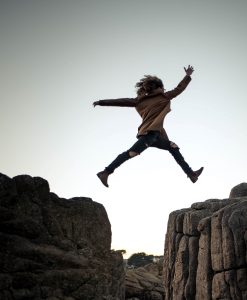 In The Salvation Army, October begins a new year for programming.  This year (October 2020-September 2021) the theme for Women's Ministries across the United States is "Just Be…"  Each month the newsletter will focus on an attribute that we should be.  For October, we are going to "Just Be Courageous."
There is so much that can cause us to be fearful, especially now.  Fear is a part of daily life, but we don't have to let fear control us.   Courage is defined as " the expression of boldness and confidence; the opposite of fear; strength in the face of adversity."  Now is the perfect time to "Just Be Courageous."
In this MONTH'S NEWSLETTER you will learn about we some of the common fears or phobias that people experience (and boy there are a lot of phobias out there), enjoy a 31-day Bible reading plan to help you not fear, as well as discover encouragement from David in Psalm 56 in regards with what to do when we are afraid:
When I am afraid, I will put my trust in you.  Psalm 56:3
Need a little more encouragement regarding how to deal with fear?  Christian Author, Jennifer Rothschild, has an awesome podcast (4:13 Podcast), and one of her recent episodes (episode #104) talked about finding safety in God when you feel afraid.  She wrote, "Do you struggle with fear?  If so, you're not alone!  Fear can make us feel vulnerable, and that's when we need to know we're safe.  Today you'll hear the words of Jesus in Luke 12.  And you'll learn how He gives you His peace and presence when you need it most."  Check out the great podcast HERE.
Need more help with fear? Max Lucado has an excellent book Fearless: Image Your Life Without Fear.  He writes, "Imagine your life, wholly untouched by angst. What if faith, not fear, was your default reaction to threats? If you could hover a fear magnet over your heart and extract every last shaving of dread, insecurity, or doubt, what would remain? Envision a day, just one day, where you could trust more and fear less.  Can you imagine your life without fear?"  Max writes with a story tellers heart, and although his books are quick reads, they are also challenging.  You can purchase his book on Amazon or Christian Book Distributors.
Need previous issues of the INSPIRE Newsletter?  They can be found at the following links: September 2020, August 2020, July 2020, June 2020, May 2020, April 2020, March 2020, February 2020, January 2020, December 2019, November 2019, October 2019, October 2018-September 2019