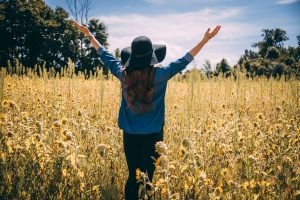 November is the month when we celebrate Thanksgiving, and is the month to remind us to be thankful for the many positive things happening in our life.  This MONTH'S NEWSLETTER  contains ideas to help us "Just Be Grateful," with an easy gratitude pumpkin idea as well as a gratitude challenge.
Also included is a 30-day Bible reading plan to help you cultivate thankfulness, as well as a devotional to remind you of what the Lord has done for you.  When we think about all that God has done for us, we can't help but be filled with thankfulness.  Remembering what God has done should motivate us to tell our story – of what God has done in our lives – to others!
Give thanks to the Lord, for he is good his love endures forever.  Let the redeemed of the Lord tell their story… Psalm 107:1-2 
Christian author, Henri J. Nouwen, writes this in regards to gratitude:
Gratitude is the awareness that life in all its manifestations is a gift for which we want to give thanks….
The discipline of gratitude is the explicit effort to acknowledge that all I am and have is given to me as a gift of love, a gift to be celebrated with joy.
Gratitude as a discipline involves a conscious choice.  I can choose to be grateful even when my emotions and feelings are still steeped in hurt and resentment… I can choose gratitude instead of a complaint.
To help you in choosing gratitude, listen to the song Grateful by Elevation Worship.
Need a little more help in cultivating gratefulness in your life?  Stormie Omartian has a great book entitled The Prayer that Changes Everything:  The Hidden Power of Praising God.  Her book has 30 chapters – you could read one chapter a day for the month of November.  As we choose to praise God, we are going to naturally be filled with gratitude and thankfulness to Him.  You can purchase this book at Amazon or Christian Book Distributors.
Need previous issues of the INSPIRE Newsletter?  They can be found at the following links: October 2020, September 2020, August 2020, July 2020, June 2020, May 2020, April 2020, March 2020, February 2020, January 2020, December 2019, November 2019, October 2019, October 2018-September 2019