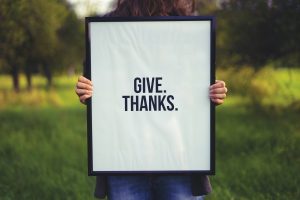 By Major Beth Desplancke
November is here, fall is in the air, and Thanksgiving is just around the corner. I personally love the Thanksgiving holiday, but often, we quickly jump from Halloween to Christmas and forget that Thanksgiving is in the middle.
Let's be honest – Thanksgiving this year is hard. 2020 has been a challenging year with COVID-19 changing the way we do life. Illness, death, loss of jobs, businesses closing, quarantine/stay at home orders, social distancing. Who would have thought that face masks would be the biggest fashion trend of this year, and hand sanitizer would be the preferred fragrance? It really is hard to be thankful.
Paul writes in 1 Thessalonians 5:18, And in the midst of everything be always giving thanks, for this is God's perfect plan for you in Christ Jesus (The Passion Translation). This is a command – it means we are supposed to do it. It isn't a suggestion but an order, and it isn't saying we are to be thankful when life is easy and good, but in all circumstances. That means we are to be thankful when life is hard and doesn't feel so good. We are to be thankful right now in the midst of a global pandemic.
I have to admit that I can go to complaining and whining quite quickly when life gets hard or challenging. I am joyful and content when life goes as I envision, but as soon as life doesn't go according to my plan, I can turn negative. Needless to say, this year hasn't gone according to my plans at all. In April, I was preparing to attend a Women's Ministries retreat in Hawaii – my first ever trip to Hawaii – and in the middle of March, before everything was shut down, the retreat was cancelled. I have to admit, I cried over not getting to go to Hawaii!
Right after my trip to Hawaii was cancelled, I received a call from my kids' schools, letting me know they were shutting down for 3 weeks – my kids would do virtual school. At first, I thought my kids would go back after the three weeks. Three weeks ended up being the remaining three months of school, and now that school has started again, they are still doing school from home. The school district hopes to provide in-class instruction this month, but I am skeptical.
It is easy to whine and complain about the things that haven't happened this year. My daughter, who was a senior in high school never got to go to her prom, enjoy graduation or participate in the other end of the year activities. In addition to Hawaii, several other trips were cancelled.
Negativity brewed in my heart as the months dragged on. God has reminded me of 1 Thessalonians 5:18 continually over the past seven months. Despite all the difficulties I have experienced (and I know that mine are small compared to what others have endured during this season), I had to choose to consciously look for things to be thankful for. When I stopped complaining about my circumstances, and focused on being thankful, I discovered I have quite a lot to be grateful for.
I am thankful that my family has remained healthy during this time of sickness. Although I know people who have been impacted by COVID, no one in my immediate or extended family has gotten it.
Although more time at home has driven me crazy, I have enjoyed the extra moments with my kids who are 13, 18 and 21. They are all at the ages where they don't want to hang out with mom and dad, but being "trapped" at home has meant more time together. Most evenings all five of us gathered around the table for dinner.  Not only were all my family home and eating together, we lingered longer around the table, talking to and laughing with each other. We enjoyed family movie nights and game nights (something we hadn't done in years).
For Mother's Day, since nothing was open, all five of us loaded into the van and drove quite a distance to go to a coffee shop that I enjoy but isn't located in Southern California. I don't really like coffee, but I love Dutch Brothers! We spent nine hours in the van round trip – 9 hours! When I suggested that as my Mother's Day gift, I was slightly joking and then I even tried to talk my family out of it. Nine long hours in the van with my husband and kids. We laughed together, we talked, we were all in the same place together for the bulk of the day. The coffee was so-so, but the love my family showed me that day is truly worth being thankful for.
I praise God for the extended time I have had with the Lord in my personal devotion time. Although I am still busy, I don't have activities in the evening pulling me away, so I have had more time to read God's Word, study it, and spend time talking with Him. As I have struggled with not having the answers, I have turned to the One who has the answers.
During this time, I have watched my children, especially my 18-year-old daughter, Emily, grow in her relationship with the Lord. With no friends to hang out with, she started spending more time in her devotions as well. One day, she came out of her room in tears, and asked me, "Does the Bible ever make you cry?" Well, this mom started crying tears of joy with her. Several times, as she was reading her Bible, she would come into the living room and ask me to clarify what she had read. It was such a blessing to be available to answer her questions when they came up.
Henri J. Nouwen, one of my favorite Christian authors, reminds us about the choice of gratitude:
Gratitude is the most fruitful way of deepening your consciousness that you are not an "accident," but a divine choice. It is important to realize how often we have had chances to be grateful and have not used them. When someone is kind to us, when an event turns out well, when a problem is solved, a relationship restored, a wound healed, there are very concrete reasons to offer thanks: be it with words, with flowers, with a letter, a card, a phone call, or just a gesture of affection. . . . Every time we decide to be grateful it will be easier to see new things to be grateful for. Gratitude begets gratitude, just as love begets love.
Our Thanksgiving gatherings are going to be different this year, but even in the bad and difficult times, there are always things to be thankful for. What are you thankful for, despite the troubles you have encountered this year?