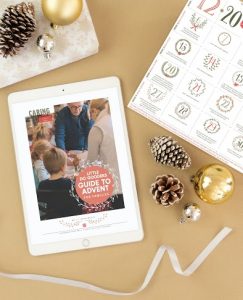 It's easy to become overwhelmed with the stress of the season, but circumstances dictate a slowdown in 2020—the frenzy of holiday parties, trips to the mall and school programs are largely on hold.  Perhaps it's an unexpected gift this year that we can take time to savor the joy and awe of Christmas. We can slow down and make room, as a family, for Jesus, the King, to come.
Unwrap a simple, unhurried approach to the holiday season with the Little Do Gooders Guide to Advent for Families.
Imagine a December spent savoring the true joy and awe of Christmas.  Dreamy, right?  The 5-week guide (12-pages), written by Lt. Erin Wikle with input from the Territorial Youth Department, offers a simple, day-by-day plan to an unhurried and meaningful approach to the season by:
Diving deeper into understanding the true meaning of words like hope, peace, joy and love.
Connecting the meaning of the word with what Scripture says about it.
Setting aside time to have meaningful conversations with your family.
Praying with one another and being still, listening for God's voice.
Get the free guide—the Little Do Gooders Guide to Advent for Families from The Salvation Army's Caring Magazine—and follow a simple, day-by-day plan to an unhurried and meaningful approach to the season.   Get instant access—and get your printed calendar (and stickers!) in the mail, while supplies last…