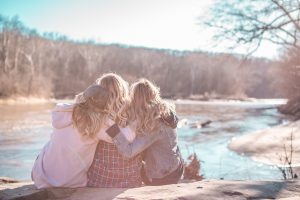 It's February!  This month we celebrate Valentine's Day and think of love and friendship.  If ever the world needs friends, it is now, so this month our we are going to "Just Be Friendly!"  Friendly describes people who are kind, caring, and make you feel comfortable.  I like this definition of friendship:
"A friend is someone who understands your past, believes in your future, and accepts you just the way you are." Unknown
This MONTH'S NEWSLETTER includes a biblical example of what friendship is, a 28-day reading plan looking at the qualities of a true friend, and easy and inexpensive gift ideas that you can make and give to your friends this Valentine's Day as a small token of your love and affection for them.
"There is nothing on this earth more to be prized than true friendship." Thomas Aquinas
"Many people will walk in and out of your life, but only true friends leave footprints in your heart." Eleanor Roosevelt
May we be women who are blessed by friendship and may we be a blessing by sharing friendship with others.
Need previous issues of the INSPIRE Newsletter?  They can be found at the following links:  January 2021 December 2020, November 2020, October 2020, September 2020, August 2020, July 2020, June 2020, May 2020, April 2020, March 2020, February 2020, January 2020, December 2019, November 2019, October 2019, October 2018-September 2019