DOUGH SEASONAL ORNAMENTS
By Major Nancy Helms
College For Officer Training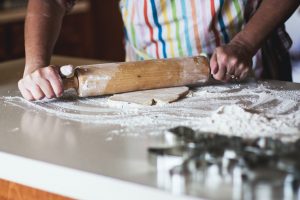 Salt dough recipe supplies
2 cups of plain flour (all-purpose flour)
 1 cup of salt
 1 cup of water (you may need less)
Directions for making dough
Making salt dough is so easy! Just follow the 4 easy steps below to create the best salt dough recipe.
Mix 2 cups of plain flour and 1 cup of salt together in a large bowl
Add 1 cup of water.  Add it in slowly as you may need less.
Knead the mixture into a dough.
 Get creating!
Supplies for decorating ornaments
 Straw
Acrylic paint
Baking sheet
 String or twine to hang ornament
Mod Podge or a clear glaze spray
Paint brushes
Glue and glitter if you want to get fancy
Directions for making ornaments
Roll out dough (about ½ cm thick)
Use Easter (or Christmas) cookie cutters to cut out ornament – or if you are artsy, form your own.
Place cut out ornament on a non-stick baking sheet
Use a straw to make a whole in the top of ornament for hanging
When ornaments are completely dry you can paint them
Seal with Mod Podge or a clear glaze spray
Note: Also on our website is DON'T FORGET THE BREAD Bible Study and FRUIT, BREAD & OPEN EYES devotional that coordinates with this craft.