By Captain Joanna Wang
San Gabriel, CA Corps – California South Division
A few months ago, I was walking in my neighborhood with my two-year-old son. I decided to pick up the pace a little and started to jog. Things were going great until, all of a sudden, I found myself falling. I couldn't stop myself and fell on the ground, scraping my hands and knees. For a split-second, I was in shock, unable to move, feeling like it was almost a dream. Then I remembered where I was and who I was with. I looked over at my son, getting ready to tell him to come and hold my hand, realizing the possible danger of the situation, and wanting to make sure that he didn't run into the road. And then I realized that he was lying beside me on the sidewalk. He was copying my movements. Then, as I sat up, groaning and near tears from the pain, my son sat beside me and took my injured hand in his little hands. He then kissed my hand while looking up at me and saying, "Aw!" Not only did he not run into the road or down the sidewalk where I might not have been able to catch him, but he just stayed with me until I got up and hobbled home. For the next few days, when he looked at my scraped-up knee or injured hand, he would say, "Aw!" with sweet compassion and would proceed to try to kiss the pain away. Such sweet compassion I experienced from the actions of a two-year-old!
I was deeply touched by the compassion that my little boy showed me during that time. In fact, as I experienced my son's compassionate response to my pain, I was also reminded of how our Heavenly Father shows us compassion as well. Psalm 103:8 says, "The Lord is compassionate and gracious, slow to anger and abounding in lovingkindness." Our God is full of compassion and He demonstrates it to us time and time again. In fact, this was one of the characteristics of Jesus that stood out the most during His time on earth as He interacted with and ministered to people. We see His compassion when He raised the widow's son from the dead in Luke 7. Verse 13 says, "When the Lord saw her, He felt compassion for her, and said to her, 'Do not weep." Even though He was going to bring the boy back from the dead, He knew that her heart was broken, and He showed compassion to her in the midst of her grief. Again, we see Jesus' compassion in Matthew 15 when He feeds the four thousand because they had been with Him for three days without food and He knew that they were in need. In verse 32 it says, "Jesus called His disciples to Him and said, 'I have compassion for these people; they have already been with me three days and have nothing to eat. I do not want to send them away hungry, or they may collapse on the way.'" Also, in Matthew 9:36, we see Jesus compassion yet again. This verse says, "When He saw the crowds, He had compassion on them, because they were harassed and helpless, like sheep without a shepherd."
Jesus cared deeply for people and showed compassion to them over and over again. Today, He continues to show us compassion because of His immeasurable love for us. He knows that we too are in need. We too are heartbroken at times. We too are in need of things. We too need the Lord to guide us in our lives as we navigate the challenges that we face in this world. And the wonderful thing is that God meets us right where we are, filled with love and compassion, and He shows us that He is with us. And because He is with us, we know that we are not alone, and we will never be alone. Joshua 1:9 says, "Have I not commanded you? Be strong and courageous. Do not be afraid, do not be discouraged, for the Lord your God will be with you wherever you are."
This promise of God's presence with us is a beautiful demonstration of His compassion for us. And as we experience His compassion, we can also show compassion to others. Second Corinthians 1:3-4 says, "Praise be to the God and Father of our Lord Jesus Christ, the Father of compassion and the God of all comfort, who comforts us in all our troubles, so that we can comfort those in any trouble with the comfort we ourselves receive from God."
Is your heart hurting today? Do you need our God of all compassion to minister to you? Cry out to Him. He is there! Have you experienced God's compassion? Ask the Lord to help you to pass that compassion on to others, helping them when they are in need, encouraging them, ministering to them as He leads you. As we experience God's compassion, may we then pass it on to others so that they too can see Jesus and experience His compassion for themselves.
Prayer:
God, thank you for the compassion that you show us because of your amazing love for us. Thank you for meeting us right where we are and ministering to us. Please help us to show your compassion to others too so that they can see you and so that they too can know your love and compassion for them. In Jesus' name, Amen.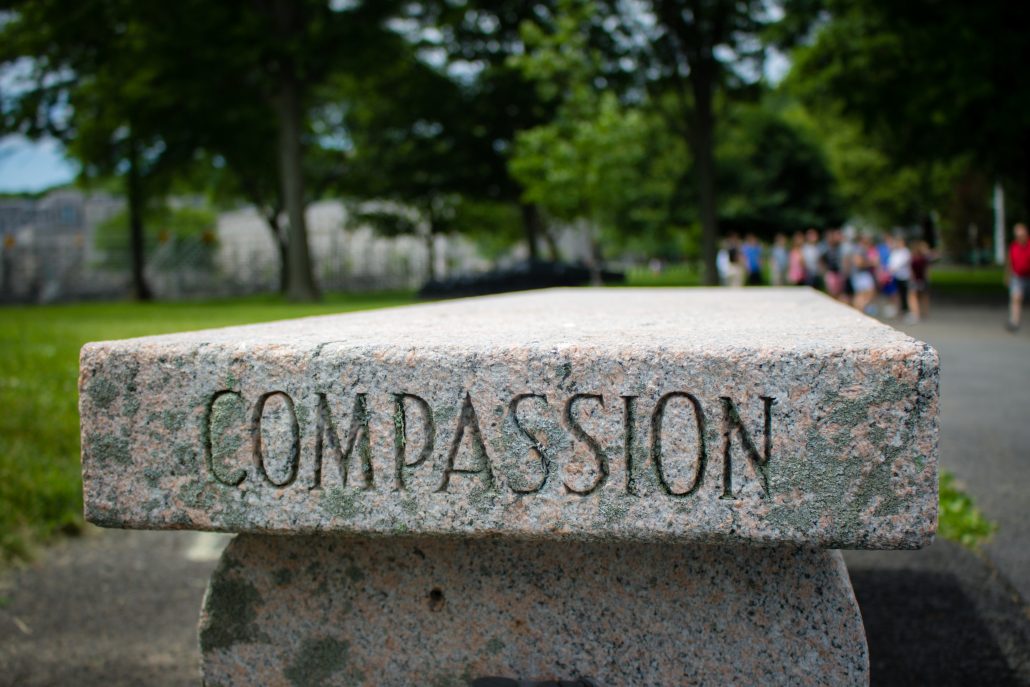 https://usw-womensministries.org/wp-content/uploads/2021/10/March-devo-scaled.jpg
1707
2560
Beth Desplancke
https://usw-womensministries.org/wp-content/uploads/2019/08/uswLogo-300x75-300x75.png
Beth Desplancke
2022-02-15 11:11:00
2022-02-15 11:11:59
March 2022 Devotional: Compassion...Pass it On