Succulent Garden Craft
By Captain Andrea Reedy
Everett, WA Corps – Northwest Division   
To create a succulent garden, you will need a container, small rocks, potting soil and different succulents. If you can plan ahead Amazon is the cheapest option for succulents.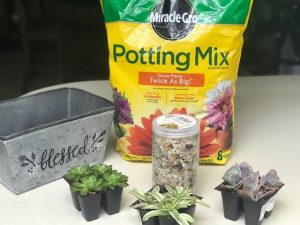 Place small rocks on the bottom of the container. Potting soil goes in the container next and then plant the succulents in any design you'd like. Finish by placing small rocks on top of the potting soil.
This is a simple craft, however, you will need to remember to water and care for the plants. As you remember to care for the succulents remember where our help comes from.
I will lift up my eyes to the mountains –
where does my help come from?
My help comes from the Lord,
the Maker of heaven and earth.
Psalm 121:1-2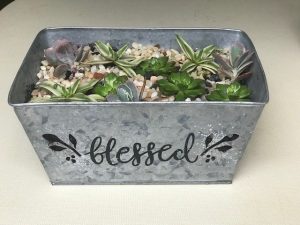 Note:  Also on our website is I LIFT UP MY EYES TO THE MOUNTAINS devotional as well as a PSALM 121 BIBLE STUDY that coordinates with this craft.