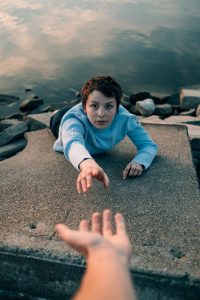 Psalm 121 – A Psalm of Ascent
Bible Study/Discussion Questions
By Lt. Joleen Aycock
Lewiston, ID Corps – Northwest Division
1) Verses 1-2 are written from a personal perspective (I, my, etc.), but then the remainder of the chapter switches to speaking into other people's lives (you, your, etc.). Why is that impactful?
2) The Psalmist begins by declaring, "My help comes from the Lord, the Maker of Heaven and Earth". On our journeys in life, especially when we are on a rough portion of road, why is it encouraging to remember God as the Creator of Heaven and Earth?
3) a. Read back through the chapter again and note how many times the words or phrases "keep", "watch" or "watches over" occur.
b. Why do you think the Psalmist repeats this so many times?
c. The word used here for "keep" or "watch" means to guard or to protect. The first time this word was used in Scripture is in Genesis 2:15. Look up Genesis 2:15 and re-write it in your own words in light of this definition.
4) a. Read verses 3-4 again. How many times does the word "slumber" or "sleep" show up.
b. Two different words in the original language are used here:
Num = Drowsiness or dozing off
Yashan = Deep sleep
In light of where you are at on your journey right now, how does it impact you to know that your God, Who watches over you, doesn't sleep or even get drowsy?
5) Verses 5-6 refer to the presence of God not being far off but rather right beside us, day and night, sheltering us from harm. Have you ever experienced God's presence and protection right beside you? Share a little of that story.
6) Read verses 7-8 again. What is your response knowing that our God is a God who cares about even the most mundane or general parts of our lives?
Download the PRINTABLE VERSION of this Bible Study.
Download the LEADER'S GUIDE to this Bible Study.
Note:  Also on our website is I LIFT UP MY EYES TO THE MOUNTAIN devotional as well as a SUCCULENT GARDEN CRAFT that coordinates with this Bible Study.