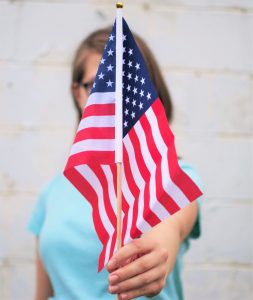 The Battle Continues…But We Are Not Alone
Captain Harryette O'Brien
Torrance, CA Corps – California South Division
Recently I read a book called Killing London by Bill O'Reilly and Martin Dugard. I love the way these two men can tell a story by weaving history through every page. In the book, I learned that after members of Congress agreed upon the wording of The Declaration of Independence in 1776, The United States of America went to war. It was 8 long years of battles before America was acknowledged by King George to be a free, sovereign, and independent nation. Throughout my educational career and love of history, I had no idea that we were not "officially" free until 1783. Once the Patriot citizens declared their independence to the world the fight was not over, it had only begun. For many years after there would be war, death, hunger, atrocious weather conditions, grief, exhaustion, and another myriad of emotions to be dealt with.
This reminds me of our Christian journey with Christ. We declare that we want to follow him, we give our hearts to him, and we start to live as Jesus instructed. However, the battle is not over. Scripture tells us, "No, in all these things we are more than conquerors through him who loved us. For I am convinced that neither death nor life, neither angels nor demons, neither the present nor the future, nor any powers, neither height nor depth, nor anything else in all creation, will be able to separate us from the love of God that is in Christ our Lord." Romans 8:37-39
This is one of the most comforting promises in the Bible. Christians/Believers have always had to face hard times. Pain is inevitable, tough days are almost guaranteed, and loneliness can overwhelm easily. These feelings can often lead us to think that we have been abandoned by God. Do not be fooled by these feelings. Paul reminds us that absolutely nothing can separate us from the love of God. God is more powerful than anything this world can throw at us. Hard times will happen, but we must remember that we are not on this journey alone.
Once the citizens of The United States of America decided to separate themselves from old ties, their new lives began. It was a struggle, but Americans persevered. They were fighters, and so are you. While there is still a struggle, you are no longer alone. God is with you, traveling this journey right next to you. Rest assured in the promise that we have been given through scripture. Nothing can separate us from the love of God. Battles, trials, frustrations, hardships, and a lot more will continue to happen, it is life, and life is inevitable.
Friends, you are lavishly loved by a God who created the stripes on the Zebra, the Corpse Plant that is the largest flower in the world and only blooms once every 40 years, the depths of the oceans that have yet to be explored, and the MACS0647-JD galaxy that is over 13 billion light-years away from Earth. While all these things are amazing, it is YOU who God favors. Continue to fight your battles but know that you are not alone. God is with you, and so is the body of Christ. We are all in this life together.
Dear God,
Thank you for your infinite love for us. Thank you for never leaving us alone. Sometimes the journey of life can be rough. Please forgive us for thinking that hardships are an example of your abandonment of us. When we are fighting our battles, please overwhelm us with your peace as a reminder that you are with us. We love you with all that we are, and we will continue praising you as long as we live.
Amen.