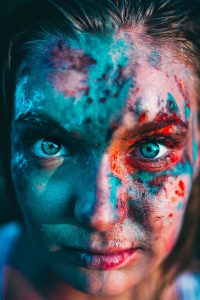 Embrace your Uniqueness
By Cadet Katherine Hernandez
CFOT – Messengers of the Kingdom Session
Have you ever thought about the things that make you unique? Recently, I sat down and thought about this very question. As I started jotting some things down, the easy ones came to mind quickly- I was born in Costa Rica, I am bilingual, I love mopping (for some reason it is very relaxing), I can wiggle both my ears, and my eyes change color depending on what I wear.
However, as I kept pondering this question, other unique traits came to mind, but these traits are ones that I am still learning to embrace- Having curly hair is one, and having a beauty mole on my right eye lid is another. To some these traits may be beautiful, but to me, well- I haven't always agreed with this.
You see, in recent years I have come to understand that in order for anyone to embrace their individual uniqueness, they have to embrace all their traits. Including the one's they wish they didn't have, or possibly wish were a bit different. Because the reality is that it is all our traits that set us apart from the rest and make us unique.
Yes, there may be times in which we may wish we spoke many different languages, had straight or perfect curly hair, or had ears that wiggled, but the fact of the matter is that we may not. But realizing how empowering it is to embrace our own uniqueness, will allow for us to see how we have indeed been fearfully and wonderfully made.
Psalm 139:14 says, "I praise you because I am fearfully and wonderfully made; your works are wonderful, I know that full well."
How amazing is it to know that God loved you and I so much that He took his time in knitting us together in our mother's womb, in creating us in His image, and in giving us special characteristics and traits that set us apart. He has created and designed us to be beautiful, inspiring, and unique women of God.
Today, I want to encourage you to embrace your uniqueness, because there is only one of YOU!
Note: Also on our website is an UNIQUELY YOU! Bible Study and an UNIQUE MARBLE MUG craft that coordinates with this devotional.