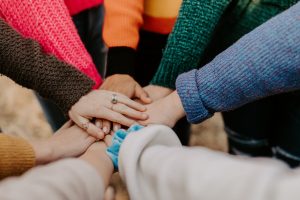 Any successful Women's Ministries program needs to have leaders.  The Corps Officer cannot do it all alone – they need local leaders (local officers). What are the qualities of a Leader?
Spiritual
Intimate relationship with God
Jealous for God's honor, not her own
Devoted to prayer
Committed to God and His Word
Personal
Integrity and Courage
Emotional Maturity
Vision and Creativity
Positive Self-Image
Teachable Spirit
Servant Heart
Gracious and Caring
Working
Regular attendance and support of Corps
Team player
Wears Salvation Army uniform (if soldier)
Faces and deals with issues
Thinks before acting (…or speaking!)
Serves, motivates and can delegate to others.
Before considering a woman to be a leader, make sure she possesses these true leadership requirements:
A Christian woman who is continually growing spiritually and learning of God's Word.
Attends a Bible study of some nature (i.e., Sunday school, Adult, Women's) as a participant only.
Has a keen interest, concern and compassion for women and their needs.  Displays a willingness to relay these to ministry members and to also become personally involved in the lives of other women.
Possesses a spirit of outreach and welcoming to new women.
Involved in self-improvement spiritually, emotionally, etc., as well as in sharing of the knowledge and insights gained.
Local officers are Salvation Army soldiers appointed to positions of responsibility and authority.  They are issued a commission endorsed by the Divisional Commander according to Salvation Army regulations.
All Women's Ministries local officers are subject to the Orders and Regulations for Local Officers, and should be familiar with its contents>
Their appointment to and tenure of office is as therein described
They are required to comply with the conditions of local officership, including the wearing of the uniform and paying of tithes
They work under the official direction of the Corps Officer
Warranted positions are given to those women who are in leadership roles but are not soldiers of The Salvation Army.  Some leadership positions can only be filled by commissioned leaders (soldiers in The Salvation Army).
Below are the Corps Leadership Positions for Women's Ministries and Home League.  Click on each title for more details about the job description.
Other leadership positions may be established to meet local needs with approval of the Divisional Director of Women's Ministries and Divisional Women's Ministries Secretary.
Women's Outreach Ministries Leader
Other Home League Corps Ministry Positions:  Home League Recorder, Membership Sergeant, Greeter, Visitation Coordinator, Hostess, Correspondent, Librarian, Music Coordinator, Organist/Pianist