it's human nature to believe in something other than one's self, and doing so can give life meaning.
That according to Dr. Diane Winston, who has made understanding, analyzing and writing about religion in America her career.
Now as the Knight Chair in Media and Religion at the University of Southern California, Diane is a national authority on religion and the media as both a journalist and scholar. Her courses examine religion, spirituality and ethics in relationship to journalism, entertainment media, American history and foreign policy.
She holds a doctorate in religion from Princeton University along with master's degrees from Harvard Divinity School, the Columbia University Graduate School of Journalism and Brandeis University.
As she explains on today's show, Religion—like politics, economics, race, ethnicity and gender—is a cultural factor and social force that motivates, explains and inspires. It is key to understanding the world we live in.
And you can't have religion without spirituality, and vice versa.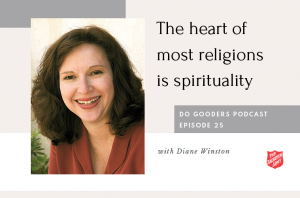 Good words from Dr. Diane Winston in this show:
"I felt it was a big hole in my knowledge because I knew about my religion, but I didn't know very much about the role of religion in America."
"There are so many opportunities that didn't exist when I was a reporter that if you have the expertise, you can really develop a career in writing about religion."
"The heart of most religions is spirituality."
"Religion can be a two-edged sword. It can be a force for great good, and it can be a force for great evil."
More information about this podcast can be found at caringmagazine.org