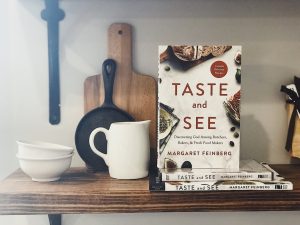 Book Review by Captain Harryette O'Brien
Divisional Youth Secretary, Southwest Division
I love to entertain. One of my favorite things is to cook and bake for people. I enjoy trying new recipes and having friends and family (anyone really) be my guinea pigs. Food encourages organic conversations, natural laughter, secret sharing, faith empowering, and encouragement among all around the table. When holy moments are shared around the dinner table, I believe we are imitating a life that Jesus set the example for.
Margaret Feinberg wrote a fantastic book titled, Taste and See; Discovering God Among Butchers, Bakers, & Fresh Food Makers. She takes the reader on a culinary journey that travels the globe looking for the art in food, and the God who put it all in motion. As individuals, we get busy. Work, life, the PTA, to-do lists, errands, after school sports, and much more seem to demand more and more of our time. Before long, food is ordered on Uber Eats, or it comes from the freezer section of the grocery store (there's no shame, let's be clear). Feinberg encourages her audience to look deeper. "In hunger and fullness, may we draw closer to the one who fashioned us. More than a journey of food, this is a journey of faith, one designed to nourish our belies and heal our souls. Let us taste and see God's goodness together" (Feinberg, 23).
Feinberg travels to various locations scouring out six different foods while showing the characteristics of God through those adventures. Enjoy as you cast a fishing net into the Sea of Galilee, decent over 400 feet into a salt mine, bake matzo at a Yale University kitchen, harvest olives in Croatia, learn from a Texas butcher, and explore a fig farm. After every chapter, you'll find an activity to do with friends around the table, and delicious recipes to try.
Works Cited:
Feinberg, Margaret. Taste and See: Discovering God Among Butchers, Bakers & Fresh Food Makers. Zondervan, 2019.