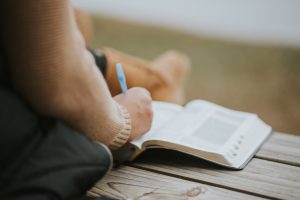 We know that times are difficult, and it is hard not to be filled with fear and worry.  But when things going on around us stress us, turn to God's Word for encouragement.
Join us for 10 days, beginning on Sunday, March 22 for a daily devotional from the Old Testament to help us have faith over fear.  These devotionals will be printable so you can share them with others who need encouragement right now.
When Life Changes – Sunday, March 22, 2020 – Joshua 1:9 Have I not commanded you?  Be strong and courageous.  Do not be afraid; do not be discouraged, for the Lord your God will be with you wherever you go.
Handling the "What Ifs" of Life – Monday, March 23, 2020 – 2  Chronicles 20:12 Our God… we do not know what to do, but our eyes are on you.
No Need to Fear – Tuesday, March 24, 2020 – Psalm 3:3 But You, Lord, are a shield about me, my glory, the One who lifts my head high.
Whom Shall I Fear? – Wednesday, March 25, 2020 – Psalm 27:1 The Lord is my light andmy salvation – whom shall I fear?  The Lord is the stronghold of my life – of whom shall I be afraid?
Saddle Up! – Thursday, March 26, 2020 – Psalm 31:14-15a But I trust in you, Lord; I say, "You are my God."  My times are in your hands….
Be Still – Friday, March 27, 2020 – Psalm 46:1 God is our refuge and strength, an ever-present help in trouble.
When You Feel Overwhelmed by Troubles – Saturday, March 28, 2020 – Psalm 55:22 Cast your cares on the Lord and he will sustain you; he will never let the righteous be shaken.
Rest in God – Sunday, March 29, 2020 – Psalm 62:1 Truly my soul finds rest in God; my salvation comes from him.
God is Greater than Our Circumstances – Monday, March 30, 2020 – Isaiah 40:11 He tends his flock like a shepherd: He gathers the lambs in his arms and carries them close to his heart; he genty leads those that have young.
He is Able – Tuesday, March 31, 2020 – Jeremiah 32:17 Ah, Sovereign Lord, you have made the heavens and the earth by your great power and outstretched arm.  Nothing is too hard for you.
Here is the PRINTABLE VERSION of all 10 devotions in one document.