By Captain Jan Pemberton
Divisional Women's Ministries Secretary – Cascade Division
When thinking about leadership, many thoughts come to mind. When we are working for others, we want our leaders to be compassionate, understanding, and helpful. When we are the leaders, we want our people to see us as competent, strong and have all the answers. However, the reality of leadership lands in the middle, especially when it comes to Christian leadership.
When I was at The College For Officer Training (CFOT), one of our officers said the phrase "Love God and Love Others" often. They would then follow it up saying, "if you do these two simple things, then the rest fall into place." I find this to be true in leadership. If we honestly love God with all our hearts and genuinely love others, as Christ loved, then the rest does fall into place. Caring about our fellow man does not show weakness; it shows the opposite – strength from God and not from ourselves.
I look back on my life when I was picked on and made fun of due to my family life and economic circumstances throughout my childhood and into my teen years. Because of this, I hardened my heart and held onto my hurt and anger in quite a silence; I saw this as a strength and prided myself on not showing my emotions and acting like things did not bother me. When in actuality, I was in great distress and hidden pain. As an adult, especially after rededicating my life to Christ, I found this was not a strength but a significant weakness.
Throughout various stages of my life, I have had many great women in leadership positions that spoke volumes into my personal life and spiritual life. Throughout my life, pre-dedication and post-dedication to Christ, I have had leaders in my life that spoke to me with their actions or words. One such lady was my Jr. High English Literature teacher, Brenda Eubank. She was a wonderful woman who taught a young, shy, and timid girl with low self-esteem and low confidence that she was worth something. Over the time I was in her class, she showed me that I could become a person of strength and could become more confident. She taught me so much not only with her words but in her actions. Mrs. Eubank asked me to be her Teachers' Assistant during my study hall period during my Sophomore through Senior years of High School. These were moments she took not only to help her with recording grades or other errands for her, but she took these times to show me that I was worth more than I ever knew. The years she took me under her wing helped me grow and gave me strength and hope for the future.
When it came to my spiritual strength, I had a wonderful "Grandmother" figure in Mrs. Betty McCracken. She was my cousin's grandmother but adopted my mother and me after the loss of my father. She showed me that there was strength and hope in Christ Jesus during the early years of my life. She shared Bible stories and guided and scolded me like all of her other grandchildren. For this, I am forever grateful. It was this foundation that she helps develop that stuck with me growing up and even to this very day.
Looking upon the past, I had leaders that spoke into my life in the secular world, my spiritual walk, and my ministry career. As I grow in my ministry career, when we humble ourselves and honestly give God our undivided attention and serve Him with humility, we will be strengthened and filled with the hope that can only come from God. My past helped shape me into the person I am today, but my future in Christ will guide me to be the leader He wants me to be.
When looking at leadership, we see those who lead with humility, with a servant's heart, and give clear, heartfelt direction has more buy-in from the team than those who only direct. Neither is right or wrong, but we must look at our team to see how they respond to a particular leadership style. Being prepared to change our leadership styles for those around us shows that we are willing to adapt and lead.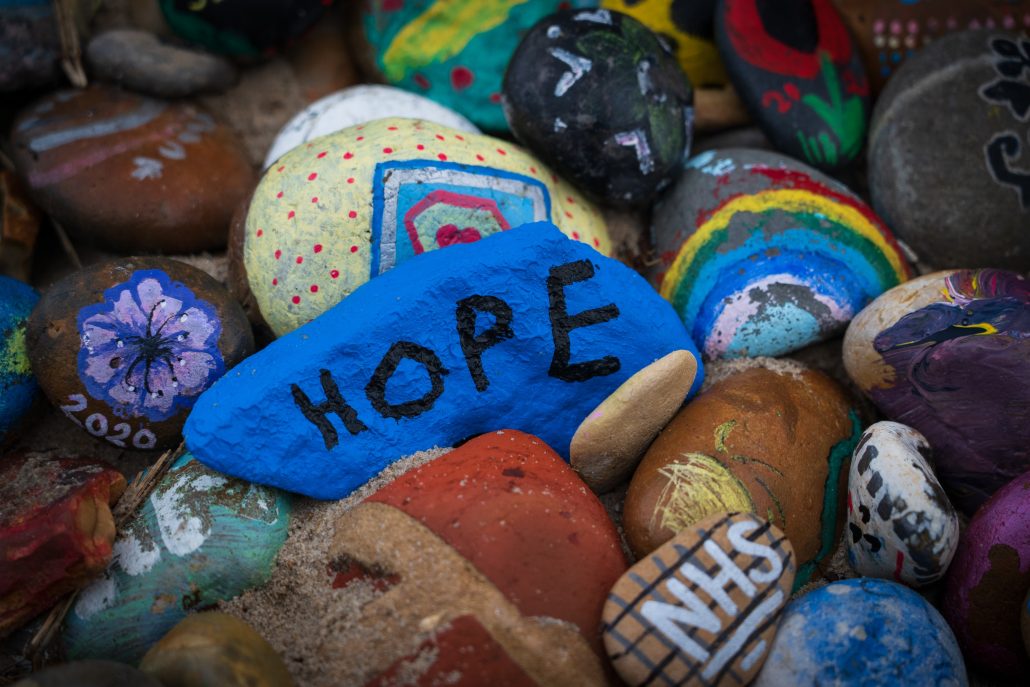 Scriptures on Strength
"But I will sing of your strength; in the morning, I will sing of your love; for you are my fortress, my refuge in times of trouble." Psalm 59:16
"I have told you these things so that in me you may have peace. In this world, you will have trouble. But take heart! I have overcome the world." John 16:33
Scriptures on Hope
"For I know the plans I have for you," declares the LORD, "plans to prosper you and not to harm you, plans to give you hope and a future." Jeremiah 29:11
"And we know that in all things God works for the good of those who love him, who have been called according to his purpose." Romans 8:28
https://usw-womensministries.org/wp-content/uploads/2022/02/April-She-Leads-scaled.jpg
1706
2560
Beth Desplancke
https://usw-womensministries.org/wp-content/uploads/2019/08/uswLogo-300x75-300x75.png
Beth Desplancke
2022-04-28 11:11:00
2022-04-28 11:11:45
She Leads... With Strength and Hope