Valentine Heart Garland
By Robbyn Laliberte
Territorial Women's Ministries Department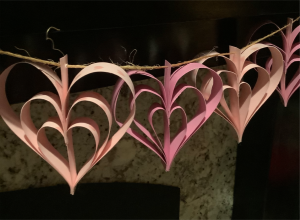 Supplies to make Heart Garland:
· Valentine colored construction patterned paper
· Scissors, or paper trimmer
· Stapler, glue stick, hot glue or glue dots
· Hole punch or Xacto knife to punch hole in paper strip
· String (any kind you have around house) or red and white string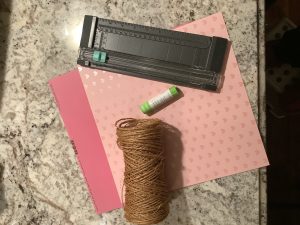 Directions:
1. Cut patterned paper into 1" wide strips. You will need the following to make one heart:
2 – 8" strips
3 – 6" strips
2 – 4" strips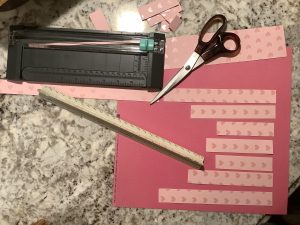 2. Lay out 7 strips of paper in this order: 8", 6", 4", 6", 4", 6", 8"
3. Staple or adhere w/glue, bottom of each strip together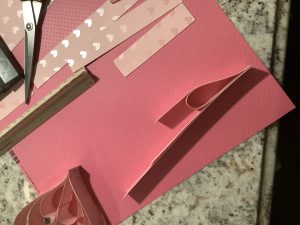 4. Starting with one side of the heart. Choose the 4" strip to bend and glue to the center of the middle 6" strip.
5. Choose the next 6" strip to bend and adhere behind the 4" strip
6. Choose the outer 8" strip to bend and adhere behind the 6: strip.
7. Repeat the above steps to complete the other side of the heart.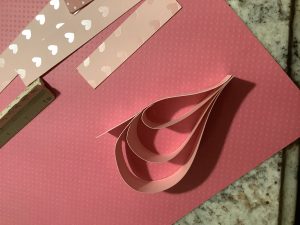 8. Punch a hole in the top of heart and string together with other hearts.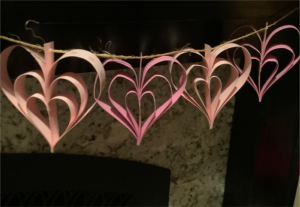 Tips: I tried different weights of construction paper. I liked the lightweight paper to make folding easier. I also tried the hot glue and glue dots but found stapling the bottoms of the strips together was easier to work with. You can also embellish with buttons and glitter.
Download the PRINTABLE VERSION of this craft.
Note: Also on our website is THE MEASURE OF GOD'S LOVE Bible Study and GOD'S LOVE LETTER devotional that coordinates with this craft.