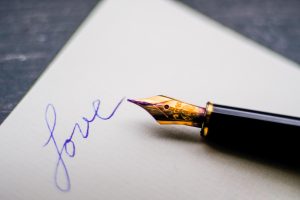 God's Love Letter
By Major Beth Desplancke
Territorial Women's Ministries Department
Back in the early days of my relationship with my now-husband Frank, we both tended to write love letters to each other, especially when we were apart. I had been dating Frank for only 2 months when he went away on a business trip to Detroit. While on his trip, he wrote me a long love letter that was filled with his plans for his life, including our future: marriage, family, officership.
When I got this precious love letter in the mail, I didn't just read it once. No! I read it repeatedly. I read it slowly – to absorb every word that was written. Days when I was missing him, I would read his letter again (this was long before the days of e-mails, cell phones, etc.) Long distance phone calls were expensive, and this was the only way I could stay connected with him while he was away. I cherished every word. I devoured the letter. Eventually I could hear the words in my head without looking at the letter. I had read it so many times I had committed my future husband's words of love and endearment to memory.
Later, when there were days that maybe I felt uncertain about how Frank felt about me, I would go back to the letter and read the words of love he had written from his heart. Although that was 22 years ago, I know I have that love letter in a box of keepsakes in the garage.
God, too, has written his children a love letter. It is the Bible. He didn't want us to wonder if we were loved. He gave us His written word so that we could see for ourselves how He feels about us.
Listen to some of the words of love, God the Father, has for us:
The Lord appeared to us in the past, saying: "I have loved you with an everlasting love; I have drawn you with unfailing kindness." Jeremiah 31:3
The Lord your God is with you, the Mighty Warrior who saves. He will take great delight in you; in his love he will no longer rebuke you, but will rejoice over you with singing. Zephaniah 3:17
God loves us so much and desires for us to have a relationship with us, that He was willing to go to great lengths for us. We are all sinners (Romans 3:23) and the punishment for sin is death (Romans 6:23). But God, in His love, provided a way for us so that we don't need to die for our sin. He sent His Son, Jesus, who was perfect and without sin, to be the sacrifice for our sin. He died in my place. He died in your place.
For God so loved the world that He gave His one and only Son, that whoever believes in Him shall not perish but have eternal life. John 3:16
But God demonstrates His own love for us in this: While we were still sinners, Christ died for us. Romans 5:8
This is how God showed his love among us: He sent His one and only Son into the world that we might live through Him. This is love: not that we loved God, but that He loved us and sent His Son as an atoning sacrifice for our sins. 1 John 4:9-10
Just as I find comfort in reading words written by my wonderful husband, professing his love for me, I am reassured reading God's words of love to me as well. I don't have to wonder if God loves me. All throughout the Bible He tells me He loves me. I am loved forever because He is love!
For I am convinced that neither death nor life, neither angels nor demons, neither the present nor the future, no any powers, neither height nor depth, nor anything else in all creation, will be able to separate us from the love of God that is in Christ Jesus our Lord. Romans 8:38-39
Note: Also on our website is  THE MEASURE OF GOD'S LOVE Bible Study and a VALENTINE HEART GARLAND craft that coordinates with this devotional.