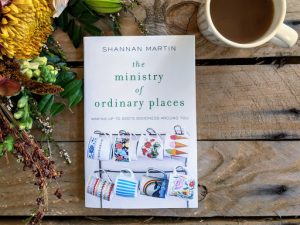 Book Review by Captain Harryette O'Brien
Torrance CA, Corps – California South Division
Shannan Martin is a blogger, speaker, and writer who encourages women to be the best they can be while following the example Jesus Christ set for us. In her book, The Ministry of Ordinary Places, Shannan reintroduces readers to their neighborhoods and what God has in store for them.
In The Ministry of Ordinary Places by Shannan Martin, the reader is encouraged to open their front door and get out into their neighborhoods and notice God all around them. Between dishes, piles of laundry, homework help, and zoom meetings our minds can often wander to "what else is out there?" Tasks at home can seem mundane and we aren't certain if we are making a difference in the Kingdom of God. Martin reminds us that what we do and where we are matters. "I want to stand ready, as Christ's ambassador in my neighborhood, wearing grace, flesh, and skinny jeans" (Martin, 11). Using scripture to guide her and the example of Jesus to follow, Shannan Martin helps the reader to live an adventurously ordinary life in their own backyard.
My favorite part of the book is part one: The lost art of paying attention. If I am going, to be honest, I am not always aware of my surroundings. Because of this, I can miss things that are right in front of me. I was encouraged by this section because Shannan provides techniques to help people notice what God is doing all around them.
I highly recommend this book. Shannan Martin speaks directly to the heart of women officers without even recognizing it. As officers, we all wear multiple hats. From janitor, chauffeur, IT technician, Youth specialist, super parent, and much more. With so many things going on outside of our home the author provides a new perspective of all that God is doing around our home, and the ministry we can have alongside the ordinary.