Thanksgiving Wreath/Aro Para Puerta
By Major Vicky Villanea
Southeast Communities, CA Corps – California South Division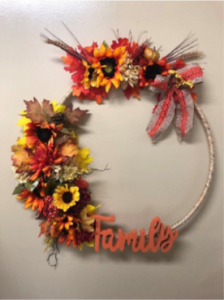 For a printable version of these instructions with detailed pictures of this craft, click HERE.
Materials/Materiales
1. One medium size hula hoop/Un Hula Hoop mediano
2. Hot glue gun/Pistola de goma caliente
3. Scissors/Tijeras
4. Flowers – different colors/Flores de diferentes colores
5. Small decorative pumpkins/Calabazas pequeñas
6. Other small decorative items/Adornitos que desees poner
7. Brown ribbon – 4-inch width/Cinta café 4 centímetros de ancho
8. Ribbon of any color you wish for bow/
Cintas de color que desea para hace el lazo
9. Wooden letters/ Letras de madera
10. Acrylic paints and brushes/Pinturas acrílicas y pinceles
You can find all the materials at the 99 Cent or Dollar Tree stores.
Todos los materiales lo pueden encontrar en la tienda del 99 cent o Dollar Tree.
Instructions/Elaboración:
1. Take off the ribbon from the hula hoop.
Quite la cinta del Hula Hoop para mas facilidad lo puede despegar de la unión y sacar la cinta y volver a unir.
2. Using the glue gun, glue the brown ribbon all around the hula hoop until it's completely covered with the ribbon.
Con la cinta y la pistola caliente de goma empiece a envolver el Hula Hoop por todo al rededor hasta que este completo
3. Start by gluing the leaves on the left side of the hoop
Empiece a pegar primero hojas a un lado del Hula Hoop.
4. Glue flowers, one by one, use different colors and sizes
Luego ponga flores al rededor una por una cortándolas de diferentes tamaños y colores.
5. If it's too difficult to glue the flowers because the hoop is too thin, you can glue a ribbon about 2 inches wide on the backside of the hoop so that you can use it as a base. Cover it with the leaves.
Si se le hace difícil porque el aro es muy delgado póngale una cinta de 5 Centímetro en la parte de atrás para hacer una base, puede ser de 10 centímetros y te ayudara, cúbrela con las hojas.
6. Glue the other small decorative items. Make sure they are not too big so it won't look too busy.
Ponga los adornos que desees pequeños no muy grandes para que no se vean muy brusco.
7. When you finish decorating the left side, glue ribbon on the top to make a hoop for hanging on the door. Make sure it is centered.
Cuando termines de decorar el lado sigue la parte de arriba de igual manera solo que centrado, trata de pegar una cinta cruzada primero para hacer la base donde se cuelga y puedes empezar otra vez con las hojas y luego las flores.
8. Continue decorating the top of the hoop following the same steps (leaves, flowers, and other small decorations). Make sure it is centered.
9. You can find wooden words that say Family, Harvest, Welcome, etc. You can paint your letters any color you wish.
En los 99 cents o dollar tree encuentras muchas letras que digan Family, harvest, welcome, etc. lo que le guste más la puedes pintar del color que te guste (yo lo pinte anaranjado)
You can hang your wreath on your front door, living room or dining room or anywhere.
Lo puedes colgar en la Puerta de entrada o en tu comedor o el lugar que desees hasta en tu jardín se vería hermosos espero te guste Dios te Bendiga.