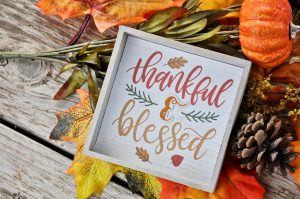 Thankfulness
By Anna Stone
Pathway of Hope Director, Hawaiian & Pacific Islands Division
And whatever you do, whether in word or deed, do it all in the name of the Lord Jesus, giving thanks to God the Father through him. Colossians 3:17
When my granddaughter was born, my daughter Sarah asked what it is that I would like for her to teach her newborn. And my answer is thankfulness.
As my children were growing up, I tried different ways to help them see how blessed they are, to become grateful. It was mostly around the Thanksgiving dinner table when they felt put on the spot. We usually had a number of guests for the turkey feast and we had the exercise whereby we asked everyone to share something they are thankful for before we began eating. When the children were still young, they were grateful for toys, books or clothes. Through the years, the items they appreciated varied, but they handmade thank you cards for family and friends who gave them presents. The habit-building exercises were routine at first, but the objective is through practice the children become authentically thankful. As parents it is our hope that our children will mature appreciative of God's blessings. Thankfulness is good for the soul. It tames the inner man to use the senses, to be observant, and to sharply see goodness around us. As defined, thankfulness is an awareness, without it mere words like 'thank you' are empty and meaningless.
For years I have wondered why thankfulness is not a fruit of the Spirit (Galatians 5:22-23) – love, joy, peace, patience, goodness, kindness, faithfulness, gentleness, self-control , and gratefulness? It turns out, without thankfulness it is difficult to unconditionally love people, to be joyful in all circumstances, be peaceful in chaos, be patient with things we can't control, to be good and choose the good, gentle to those who don't even deserve it, faithful in the mundane, and long suffering in the trying times. Thankfulness gives the perspective that allows us to see that itty bitty light of hope when nothing makes sense. At times it will have to start as a conscious choice but as we practice thankfulness, then this becomes a habit that could change the way the world looks. A grateful heart is able to receive love, experience joy in the toughest of days, be peaceful. A person who is aware of one's blessings knows his/her imperfections and acknowledges how those flaws can hurt people. That self-awareness leads to wanting God more, as John 15:15 says, it is Christ who makes us something, or a somebody. Everything good we have is from Him.  It is right to be thankful to Him.
"Every good and perfect gift is from above, coming down from the Father of the heavenly lights, who does not change like shifting shadows." James 1:17
Thanksgiving Day 2020 is going to be challenging. What can we be grateful for if businesses are closing down, people are losing their jobs, loved ones are getting sick, and worse, dying because of COVID-19? Is there good when we can't hear the laughter of children in playgrounds or schools are shutting down? The corona virus does not exempt us from political turmoil and unrest over social issues. We are living in challenging times.
"Since, then, you have been raised with Christ, set your hearts on things above, where Christ is, seated at the right hand of God. Set your minds on things above, not on earthly things. For you died, and your life is now hidden with Christ in God." Colossians 3:1-3
The heavenward perspective is what sets Christ followers apart. When we set our minds on things above, all these earthly troubles are insignificant. We can thank God that we can look to Him for guidance. It may seem so basic, but let's ask God to help us be more aware, to bring to mind His enduring faithfulness. The Author and Finisher of our faith is committed to complete what He started in our lives. Forget not the benefits of following Him. He is good. Let us look around and ask God to give us eyes to see His kindness to us. Taste and see that the Lord is good, even today.
Prayer:  
Father in Heaven, help me see your goodness. Help me recognize your kindness. Make me more aware, every day, of your faithfulness. It is easy for me to be confused when my expectations are not coming into place. I forget. I stop thanking you for how you are shaping and molding me through troubles so I can be more like You. There is a purpose for what I am experiencing at this moment. I want to have a thankful attitude towards life. I desire to be a thankful person. Help me, God, to be one.
Note: Also on our website is a HOMEMADE BISCOTTI recipe and an AUTHENTIC THANKSGIVING Bible study that coordinates with this devotional.