Snowy Winter Day Layered Hot Cocoa Mix Craft
By Major Dina Graciani
ARC Command West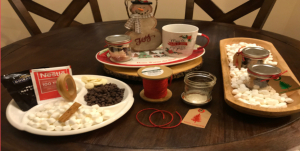 There's yumminess in every jar you make of your snowy winter layered Hot Cocoa mix.  It's a great gift idea to give with a personal mug, or a fun table favor for your upcoming parties.
HERE IS HOW!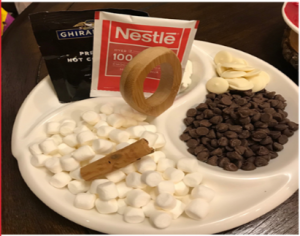 YOU WILL NEED:
small 1/2 pint 8 oz Mason jar
1 package of hot cocoa mix (you can use sugar free also)
Mini marshmallows
Chocolate chips
White chocolate melting chips
A cinnamon stick
Twine of any color
Tie gift tag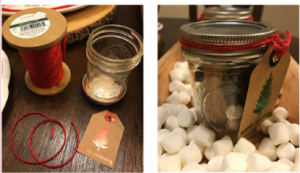 Start by opening you package of hot cocoa mix, pour it into the bottom of your jar.  Place your stir stick in jar (the cinnamon stick).  Next spoon over the cocoa mix a large tablespoon of mini marshmallows.  Next a tablespoon of chocolate chips.  Next 3-4 white chocolate melting chips.  Now another tablespoon or 2 of marshmalls.  Fill to the very top.  Now squish down your mason jar lid over all that yummy goodness.
To decorate use rustic twine or colorful red twine around the lid.  Tie it in a knot with an end available to tie a decorative tag onto twine.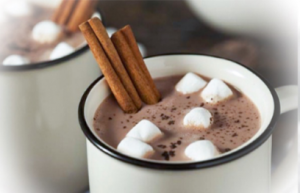 DIRECTIONS TO MAKE DRINK:
Pour all ingredients into a large mug.  Heat 8 oz of water.  Pour hot water over the yummy goodness in your mug.  Using your cinnamon stick to stir all ingredients together until its smooth, and rich.
For a printable version of these instructions with detailed pictures of this craft, click HERE.
Note: Also on our website is a WHITE AS SNOW Bible Study and AS WHITE AS THE FIRST WINTER SNOW devotional that coordinates with this craft.