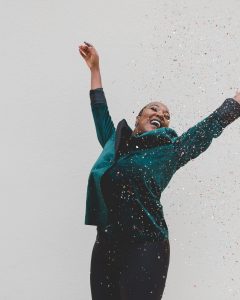 Celebration Redefined
By Major Anya Henderson
Divisional Women's Ministries Secretary, Cascade Division
My own story began in Russia. While living there for the first 25 years of my life I had to live through some harsh realities. I have never thought of them that way. But there were a couple of lessons that we have learned as kids very early on. One of them was, "No one promised that life would be easy." I was acquainted with suffering at an early age. And I did not count it as some sort of misfortune.
When I moved to USA, I was surprised at the notion of Celebration everywhere. There are whole stores devoted to putting a great party together, right? Now I lived among people who would surround me with great wishes like, "Have fun!" and "How exciting!", when I would be going for a difficult business trip, or facing a challenging assignment. It was very new to me, and I would silently hope that, in the middle of whatever I am doing, I will discover the "fun" and "excitement" that my new friends were wishing for me. To be honest, it didn't come every time, but I did discover slowly that there were plenty of reasons to smile, to laugh and to celebrate even in the middle of difficulties.
I wanted to learn to have fun: to play forgetting all the worries, laughing and exploring something new. But at the same time, I was drawn to people who have overcome huge struggles, and still had the capacity to look to the future with hope and to enjoy life as it would unfold in front of them.
Last summer I was blessed to attend "InCourage 2020" Conference for women. While the whole conference had to be moved to online form, I was pleasantly surprised how powerfully my spirit was moved with every speaker that presented. For the first time in my life I listened to Katherine Wolf, and her story of redefining everything, in the middle of suffering. She survived a horrific stroke and later had to live through 11 major surgeries in 12 years. But hardships and losses are not what define her life and passion for ministry. So, I listened carefully when she suggested that celebration totally need redefining in our world. She believes that true celebration is about process and not outcome. When she said, "Outcomes do not always come," my mind flooded with memories of standing behind two parents of a still born baby girl, and praying for strength to say their final good-bye… And another time, when we prayed for the 28 year-old daughter in the hospital room, with her mom and grandmother, knowing that she was only hours away from entering eternity. I knew, first-hand, that our outcomes don't always come. And I was eager to learn how to celebrate in the middle of it all. Every little thing.
Katherine insists that we don't have to wait to celebrate.
What I learned that day is that we don't fake celebration. We celebrate two things:
 Ultimate Outcome – that is to come. In the process we celebrate our Hope of Heaven.
We celebrate that He is with us and we are with each other.
Let me share with you three Bible verses that stood out to me that day:
"We have this hope as an anchor for the soul, firm and secure."  Hebrews 6:19
"I will give you hidden treasures, riches stored in secret places, so that you may know that I am the Lord,
    the God of Israel, who summons you by name." 
Isaiah 45:3
 "Consider him who endured such opposition from sinners, so that you will not grow weary and lose heart."
Hebrews 12:3
Yes, we need to take time to CONSIDER. It is our right, and God will not abandon us in this journey. We can walk confidently, with all our hard questions, into this difficult journey. When we do, we will find reasons to celebrate God's presence and provision, His power and His protection. We will be reminded, as Isaiah 45:3 promises, that in the middle of the darkness God will help us to find HIDDEN TREASURES. When we take time to ponder on those treasures, not only our own hearts will be strengthened, but we can then come alongside others who are hurting and struggling through their own brokenness.
In May we celebrate Mother's Day here in America. And everyone of us knows someone for whom this celebration is painful. When we are willing to be vulnerable with our own pain we are gently equipped by the Father in Heaven to encourage vulnerability, and tenderness, among the suffering. The woman who hoped to become a mom, but had to live through several miscarriages. The one who did not get to hold her babies in her arms due to some other difficult circumstances. The one who lives with the aftermath of unresolved feelings because of abortion. The grandma who raises her grandson because mom and dad are out of the picture. Those women are in desperate need of someone who can hold them in the middle of it all. Let us find courage to own our whole story, and with newly found boldness and tenderness, care for those who are still running from their pain.
For the lonely, for the ashamed
The misunderstood, and the ones to blame
What if we could start over
We could start over
We could start over
'Cause there's a kind of love that God only knows
"God only knows"
Joel David Smalbone/ Jordan Reynolds/ Josh Kerr /Luke Smallbone