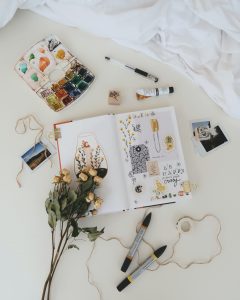 Layers
By Major Rebeca Sibaja
Grass Valley, CA Corps – Del Oro Division
I love the process of creating a scrapbook layout. The final result, not only amazes the people who see it, but it makes them think it's a nice and easy thing to do, but it's not… As many things in life, there is a process behind it.
You have to put your ideas into 'layers', choose what you're going to use carefully, change and combine papers, colors, textures, and different elements we call embellishments (flowers, texts, matching images), and add your favorite photo so that at the end, everything looks like the beautiful canvas everyone will admire.
Just as when creating a scrapbook layout you start 'putting on' or 'putting off' things until you get the best result, I can't stop but think that God works a similar process in us, and in Colossians 3: 12-15 he calls us to "Put off some things," and "Put on some others," so we can be who he wants us to be, one of His Masterpieces that everyone will admire.
"Therefore, as the elect of God, holy and beloved, put on tender mercies, kindness, humility, meekness, long-suffering; bearing with one another, and forgiving one another, if anyone has a complaint against another; even as Christ forgave you, so you also must do. But above all these things put on love, which is the bond of perfection. And let the peace of God rule in your hearts, to which also you were called in one body; and be thankful."   Colossians 3:12-15
Note:  Also on our website is DRESS FOR SUCCESS Bible study and LAYERS – A SCRAPBOOKING PROJECT that coordinates with this devotional.