By Josie Leyva
Fairbanks, AK Corps – Alaska Division
To everything there is a season and a time for every purpose under the heaven. A time to be born and a time to die a time to plant and a time to pluck up that which is planted. A time to kill and a time to heal. A time to breakdown and a time to build up. A time to weep and a time to laugh, a time to mourn and a time to dance. A time to castaway stones and a time to gather stones together. A time to embrace and a time to refrain from embracing. A time to get and a time to lose, a time to keep and a time to castaway. A time to rend and a time to sow. A time to keep silence and a time to speak, a time to love and a time to hate, a time of war and a time of peace." Ecclesiastes 3:1-8
What a privilege to be asked to share my testimony. Four years ago, I had a major heart attack, and I needed a new aortic valve. That changed my life. I have been a servant of the living God for many, many years. I was raised in a church and my life was changed, and so it was in the season of change. It was a season that has taken a toll because when you're not feeling well, or you can't do much of anything, it kind of brings you to a standstill, and the Bible speaks about that a time to keep silent or to be still and now I had the opportunity that God has given me to be useful for Him with the women's ministries here at The Salvation Army in Fairbanks, Alaska. I have found a way to flourish, to share what God has given me. I really miss the activity of going here and there but oh just a time to be still and to meditate and to share and to flourish and have that imparted to the women of my age, or women that have been through health issues is, I think, a very wonderful way to keep it going.
I praise the Lord that He has healed me! I have a new valve and some other issues going on, but God is taking care of them. A time to heal, and that's where I'm at right now. I really enjoy sharing to others as at my age in the 70s, here I am. Sometimes we feel that we are neglected, bypassed, ignored, or that we just don't have anything else to contribute. But God tells us here in His word, there's a time for everything, for every season, and I am in a season right now to be still, to be silent, but then to flourish in sharing what the Lord has done, and is doing, and will do because that is His promise to us. I know that our goal is that one day we're going to see Him face to face and walk those streets of glory! Well there'll be a season of joy and peace, and no more sorrow, no more sickness! Hallelujah! And so, I look forward to that. Those seasons to come around in the time that is allotted to me.
Do you know growing up in church and just being around people, we kind of get into this state of mind that everybody else is growing old but we're not. Then all of a sudden, here we are, but I want to encourage us, my age, our age group, here that we have much to do. The Bible instructs us to be women that will mentor the young women. How will they know if no one has told them or explained it, or love them through it ? That is our responsibility, and so as we battle many things, we can stand. God changes not and He has a purpose for each and every one of us. During my time when I was convalescent, I would write letters, or right cards to people, and of course I had my phone. I learned how to text, and I can text with one finger like maybe 40 miles, I mean 40 words a minute. I got pretty good, but things that I didn't think I could do, and I'm not computer savvy, but I do use my phone to text and communicate with people. But, you know, to say that we are done, what is the purpose in my life? Lord, and get into that state of "I don't know what else I can do. " You just ask the Lord, and He will guide you, direct you. He will open doors that no man can shut! And you walk through them, by faith!
You share what God is doing. You can remind people, you know I used to be a young girl, I went through those things, and God has secured me all the way through. Even in sickness and in health, here I am. So, when doubt comes into our hearts and minds, we must remember that there is a season for everything. I just thank the Lord for this season, a time to "flourish." I want to be planted like a tree in the waters, that will just flourish, that shall never, never, run dry! The tree will flourish, and it will give its fruit in season (Psalm 1:3).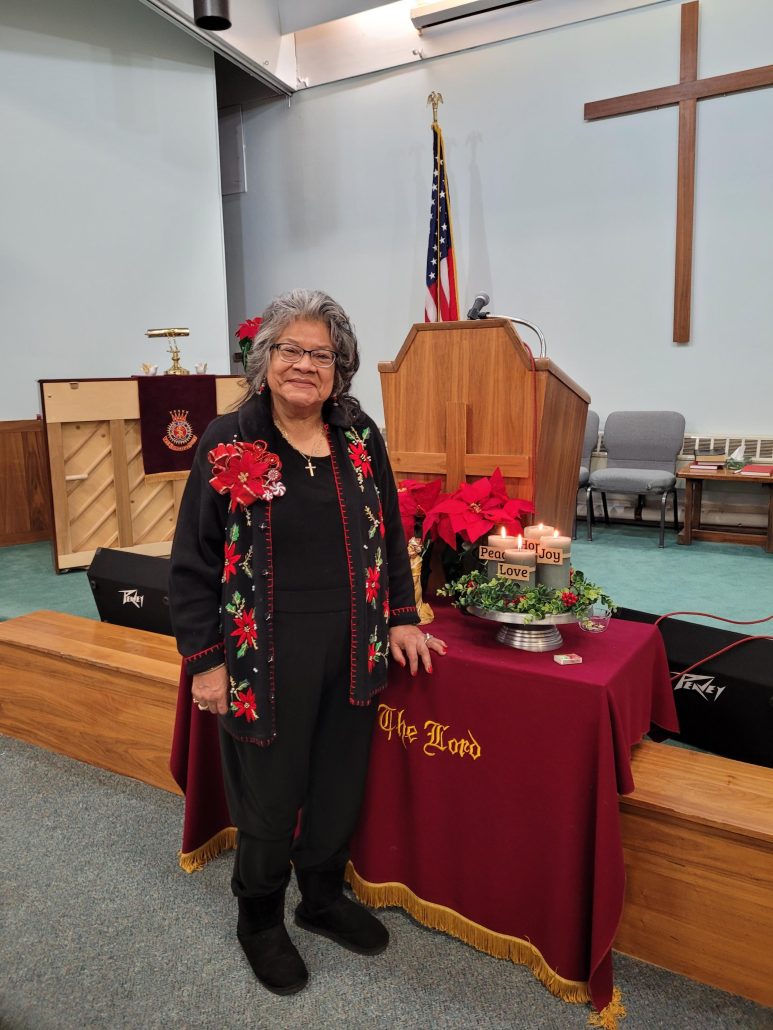 https://usw-womensministries.org/wp-content/uploads/2023/05/June-story-scaled.jpg
1793
2560
Beth Desplancke
https://usw-womensministries.org/wp-content/uploads/2019/08/uswLogo-300x75-300x75.png
Beth Desplancke
2023-05-08 11:24:19
2023-05-08 11:24:22
Flourishing Story: There is a Season