By Captain Betzy Hanson
Colorado Springs, CO Corps – Intermountain Division
Read Matthew 2:1-12
What the Wise Men Brought to Jesus
If you ever watched the movie, The Nativity Story, when it was released in 2006, then you would have witnessed the scene when the wise men brought their gifts to Jesus. As the wise men lay their gifts before Jesus they explain the significance of each gift. Here is the quote from the movie. "Gold for the King of kings, Frankincense for the Priest of priests, a gift of myrrh to honor thy sacrifice." As I watched this scene I was overwhelmed with tears. The writer who developed this scene did a great job of explaining what each gift represents.
Here is a brief explanation of each gift that was given: First, Gold is a precious metal, but it is also a sign of wealth and royalty. Frankincense is an incense that was sprinkled on sacrifices offered to the Lord and was also used in the tabernacle (Leviticus 24:7). The last gift was Myrrh which was used for embalming and has some healing properties as well.
Now, let's look at the significance of each gift. When we look at Solomon's Temple in the Bible, we read that his goblets and household items were made of gold. This is because if it was anything less than gold it was considered unworthy for a king (2 Chronicles 9:20). Gold was given to Jesus because He is greater than Solomon. Gold is not a typical gift for a child unless he is a king. So, the wise men knew the child they were visiting was going to rule and shepherd Israel. They knew he was King.
Frankincense is a priestly fragrant oil used throughout the Old Testament for sacrifices. When Jesus was born, he became the High Priest. Hebrews 4:14 says, "Therefore, since we have a great high priest who has ascended into heaven, Jesus the Son of God, let us hold firmly to the faith we profess." Frankincense was not given by coincidence; it had a significant reason of why it was given to Jesus. Jesus was going to give His life as the ultimate sacrifice for our sins. Which brings me to the last gift . . .
Myrrh. Through this gift we see the humanity of Jesus. It is shown in this gift because we know that Jesus died on the cross. In the book of John, we read that a mixture of myrrh and aloe was put on him and then his body was wrapped in cloth (John 19:38-40). According to scripture these gifts were chosen through prophecy. "But you, Bethlehem, in the land of Judah, are by no means least among the rulers of Judah; for out of you will come a ruler who will shepherd my people Israel" (Micah 5:2-4). The wise men knew that Jesus' birth was fulfilling prophecy so they prepared their gifts for the Ruler who was born to save the world. These wise men knew that hope was not lost for God's people. They knew that Jesus' birth was going to bring change. These three gifts were of great significance, because they show Jesus as King, High Priest, and man.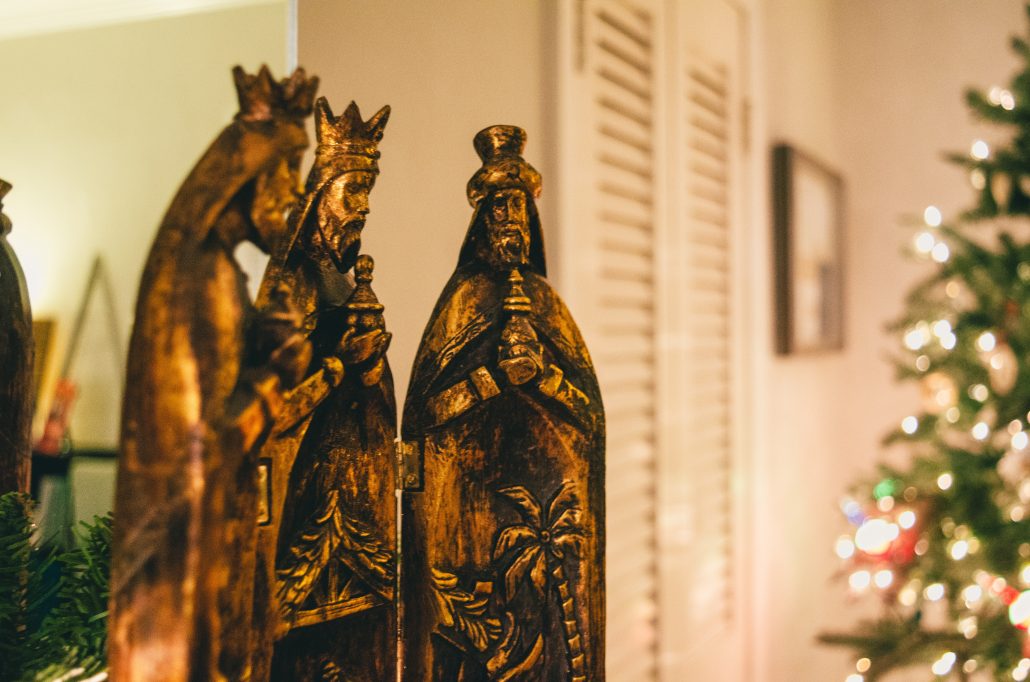 My Gift of Significance
My life completely changed when I found out I was pregnant with my second daughter, Adaline. Because of secondary infertility, and the loss of two babies, my husband and I were not able to grow our family like we wanted, but God had other plans. Adaline came to us as an unexpected but pleasant surprise. This pregnancy was truly a miracle from the Lord. Eden (my first born) was born in October 12, 2004 and Adaline was born on June 20, 2019. Yes, my girls are almost 15 years apart. When time came to get ready for the new baby, I realized I had nothing. I was starting all over.
Thank God my family and friends gathered to throw me an amazing baby shower. Some gifts were typical gifts like clothes, a stroller, a car seat, diapers, and burp cloths. But as the party came to an end, I received a very significant gift. My grandmother slowly walked up to me near the end of the party, hugged me and then handed me a very small pair of pink shoes. As she handed them to me, I immediately recognized them. They were my fist born Eden's, baby shoes. As I held these little baby shoes, I cried. I cried because I thought all hope of conceiving another child was gone. I cried because the significance of this gift meant that I was going to have a little baby to fill these shoes. I cried tears of joy, rejoicing over what God had done in my life.
Your Significant Gift
God doesn't want only the gifts of time, money, or your service to others. God wants all that we are. He wants the hidden, the seen, the bad, the sad and the hurt. He wants it all. This may sound cliché, but this is what God wants, our complete life. What significant gift will you bring to Jesus today. Will you surrender all your life? He wants us to bow down and present our lives before him. Romans 12:1 says, "I beseech you therefore, brethren, by the mercies of God, that you present your bodies a living sacrifice, holy, acceptable to God, which is your reasonable service."
Have you taken the time to prostrate yourself before God to give all your life to him? Sometimes in our busy life we see service to others as more valuable than laying all we are before God. We may not say it, but by our actions, and the way we spend our time to get the job done, we show it. God wants us to know him deeper, and the way we do this, is by spending time with Him. So today I encourage you to lay your gift of significance before Jesus. Take at least five minutes of your day, put some worship music on, and just soak in God's presence. The wise men bowed down and worshiped Jesus. "Then they opened their treasures and presented him with their gift." (Matthew 2:11). Let's bow down and worship the King of kings, the Priest of priests and the hope of all the world that was born to save us so that we can have freedom and eternal life in Him.
Note: Check out this month's craft, Wise Men Seashell Ornament, and this month's Bible study, Seeking the King that coordinates with this devotional.
https://usw-womensministries.org/wp-content/uploads/2021/08/dec-devo-scaled.jpg
1696
2560
Beth Desplancke
https://usw-womensministries.org/wp-content/uploads/2019/08/uswLogo-300x75-300x75.png
Beth Desplancke
2021-11-17 08:11:00
2021-11-17 08:12:05
December 2021 Devotional: A Gift of Significance