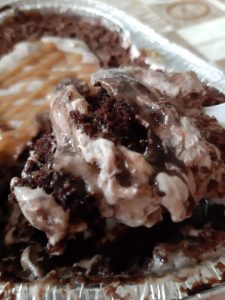 By Commissioner Jolene K. Hodder
My daughter once came home from middle school and announced that she and five other students had signed up bake a cake for their next homeroom party. Eager to complete her task, she promptly scoured my recipe books for the perfect recipe, but she was quickly stymied by the fact that most were too complicated.
So she decided to use a Betty Crocker cake mix. Following church on Sunday evening, she hurried home, put on my apron, shooed me out of the kitchen, and began to create her anticipated masterpiece.  Initially, the sounds from the kitchen told me that she was having fun. Eventually, however, the house grew strangely quiet.  Suddenly, she flew out of the kitchen crying, "Mom, it's ruined!"
Re-entering the kitchen, I discovered that, as she removed the three layers of her cake from their respective pans, they had all broken into several pieces.  At first, she tried to use the frosting to glue them together, but that just seemed to make matters worse. At this point, she didn't have the time or the ingredients to start over, and so she dejectedly plopped down into a chair and began to weep. Through her tears, she recounted the promise she had made to her teacher, and she shuddered at the thought of the derisive laughter that she knew her disastrous cake would elicit from her friends.
I told her to get ready for bed. Mom would figure it out. When she returned in her pajamas, I announced that she had done a wonderful job creating a "California Mudslide Cake." Recent rains along the coast had caused a number of mudslides, and I assured her that this cake would demonstrate to her teacher that she had been paying attention to what was happening in the world. The tears abated, and together we began to cover the cake pieces with chocolate frosting.  The final detail was the sign — "Caution – Mudslide!"
The next morning, I prayed a silent prayer as I arrived at school. The secretary gave me a funny look, but I ignored her and proudly handed over my daughter's creation.  Later that day, my daughter ran into the house, beaming. She gave me a huge hug and exclaimed, "Mom, they loved it.  They said it was the best cake in the class!"
Every time I think of that episode, I remember an old song by Queen Latifah called "Fix Me." The lyrics go like this:
Fix me Jesus, fix me
Fix me for my home on high
Fix me Jesus, fix me
Fix me for the by and by
Fix me Jesus, fix me
Fix me for my starry crown
Fix me Jesus, fix me
Fix me for a higher ground
I've loved that song for years, as it encapsulates my own prayer to the Lord. I'm constantly praying that God will "fix me" for greater, divine purposes. I'm praying that He will cleanse me, heal my spirit, and prepare me for the future that He has in mind. Self-help books won't do it, and what I think is best is usually dead wrong. I must always remember what the Apostle Paul wrote: "Being confident of this, that he who began a good work in you will carry it on to completion until the day of Christ Jesus."
Every day, during my morning prayers, I submit to God all the crumbling pieces (good and bad) of my life, and I ask Him to use those pieces for His Glory.  And I can't wait to see His final masterpiece.