By Major Nancy Ball
Divisional Secretary for Program – Hawaiian & Pacific Islands Division
Walking through challenging seasons is not for the faint of heart. Sometimes "flourishing" means getting out of bed to face another hard day. It might mean doing a load of laundry before going back to a hospital bedside or facing a painful task with the support of others. The Bible has a lot to say about travelling through the valley and Psalm 23 is one of the best:
"Even when I walk through the darkest valley, I will not be afraid, for you are close beside me. Your rod and your staff protect and comfort me." Psalm 23: 4 (NLT)
Since the early 1900's, rocks – even large boulders weighing up to 700 pounds – have been discovered in Death Valley National Park leaving evidence of movement with no apparent cause. These large rocks leave proof in the hard ground tracing their movement as much as 1500 feet along the valley floor to leave tracks in the hard packed soil. Researchers and scientists have been unable to determine the cause for this phenomenon until recently. Once every decade or so, perfect weather conditions leave thin sheets of ice across the valley floor. Light winds begin to blow the breaking ice which pushes against the rocks, causing them to move while leaving ruts in the muddy ground.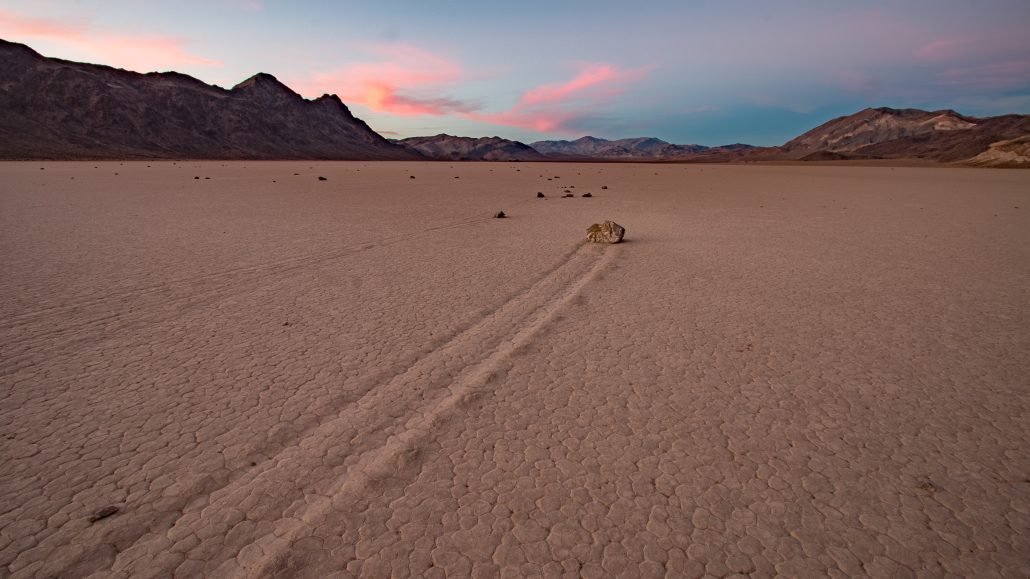 In the same way, there are forces working beneath the surface when we are in the valley of our own lives. We can't see the change in real time, but over time we will be able to see God's faithfulness at work in the struggle. Find encouragement in the journey. The reason for our suffering is rarely obvious. Faith is what we cling to when nothing else makes sense. Look to Jesus and flourish in the valley.
"Therefore we do not lose heart. Though outwardly we are wasting away, yet inwardly we are being renewed day by day. For our light and momentary troubles are achieving for us an eternal glory that far outweighs them all. So we fix our eyes not on what is seen, but on what is unseen, since what is seen is temporary, but what is unseen is eternal." 2 Corinthians 4:16-18
https://usw-womensministries.org/wp-content/uploads/2023/01/Feb-devotional-scaled.jpg
1440
2560
Beth Desplancke
https://usw-womensministries.org/wp-content/uploads/2019/08/uswLogo-300x75-300x75.png
Beth Desplancke
2023-01-27 14:44:59
2023-01-27 14:45:03
February 2023 Devotional: Flourishing in the Valley