Crafts Made From Recycled Items
 (Repurposing them from Trash to Treasure)
By Commissioner Debi Bell
Sun Cities West Valley, AZ Corps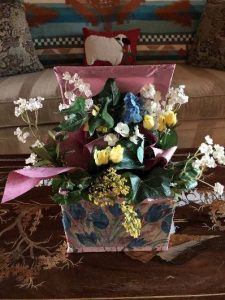 Note: This craft coordinates with the following devotional:  Reflect, Re-Use, Recycle, Repurpose, Reject or Refuse
I went to my craft supplies to find some unused to do projects. The first thing I found was a box of paper ribbon that I purchased and used for projects in the 1980s. (Reuse)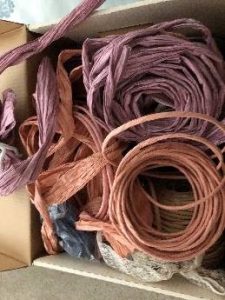 I found some material from a project someone else started, but I saved it because it was material. Who can refuse material?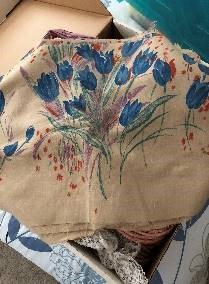 Next, I found a purple box I have been saving. I do not like purple, so I have not used it, but keep hanging on to it because it is a box. Note the box of silk flower and plant remnants I also took out of the closet. You will see some of those again.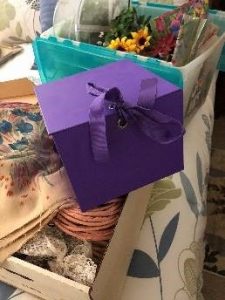 I used mod podge as my glue base because it is washable and kid-friendly. I also used an old paintbrush.
Smear mod podge liberally on the box. Then place the fabric on top of the mod podge on the box. Smooth out fabric using your hands. Do this on all sides. Trim the edges after mod podge and material are dry. Throw away the rubbish pieces; do not be tempted to hang on to them. Kind of like bad habits.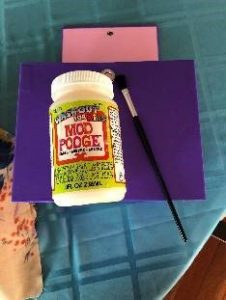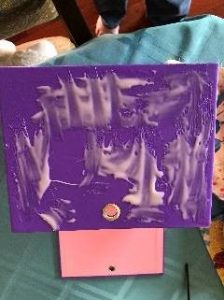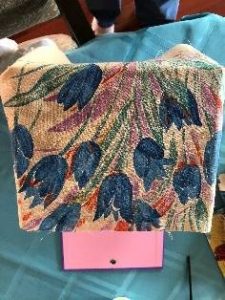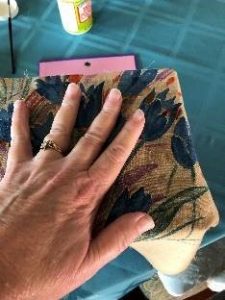 I used leftover pieces of material to stuff the box after I used paper ribbon and decorated duct tape to finish the rough edges and box corners. Then I made a paper ribbon bow to place in the middle of the open box. I added remnant silk plants and flowers from my floral crafts box.
Here is the finished project